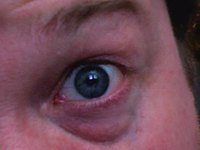 There are several reasons a person may begin to experience bags under his or her eyes. Fatigue, stress, aging, and overexposure to the sun are all causes of baggy eyes. Bags under the eyes are not harmful in and of themselves, but they can be a sign that you need to take better care of your body. Baggy eyes are also very unattractive, which is why people seek out remedies to get rid of them. There are a few things you can do at home to naturally get rid of those unwanted bags.
Hemorrhoid Cream
Hemorrhoid creams work to reduce the swelling in the tissue of your skin. That is why they work on hemorrhoids. So if you want to reduce the swelling in your baggy eyes, just apply some hemorrhoid cream. Place a dab of hemorrhoid cream (store brand will do) on the tip of your pointer finger and rub it in under your eyes. Be very careful that you do not get the cream in your eyes. It is best if you use a mirror so you have more control over where you put the cream. Wash your hands when you are done so that you don't accidentally rub the cream in your eye later on. Repeat this procedure twice per day until the bags go away.
Use Teabags
After you drink a cup of tea, save the teabags. They are very effective in getting rid of baggy eyes. You don't have to drink the tea (although it contains antioxidants that your body needs to be healthy); you can just soak the teabags for three minutes in hot water. After you have your teabags you will need to set them in the refrigerator until they become cool. Then place them over the bags on your eyes for 15 minutes at a time. The coolness will help to reduce the swelling in the skin under your eyes. The good thing about this method is that it is safe to repeat as often as you need throughout the day.
Take Care of Your Health
There are several things you can do to take care of your health that will clear up the baggy eyes without your having to use any type of treatment. You need to get a proper amount of sleep each night. This can range from seven to nine hours. You also need to cut back on salt, which causes you to retain water and contributes to that puffy look under your eyes. In addition, drinking plenty of water will flush toxins out of your body so that you do not retain any water. Never rub your eyes or leave your contacts in any longer than recommended by your eye doctor. In order to keep your eyes healthy, you must take your contacts out each night.