Elbow tendonitis occurs when the tendons of muscles that attach to the elbow joint become inflamed, often from high-stress activities or repetitive use. Doing exercises can promote strength and flexibility in the elbow joint and keep the muscles and tendons stable, which may help alleviate the pain and soreness of tendonitis, also spelled tendinitis.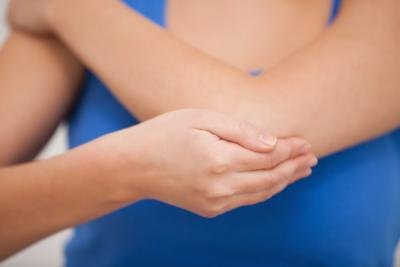 (Wavebreakmedia Ltd/Wavebreak Media/Getty Images)
Stretching is an important part of maintaining and improving range of motion of joints and muscles. Greater flexibility of tendons allows them to stretch farther without becoming irritated. The tendons that usually are affected with tendonitis at the elbow joint are those of the forearm. To stretch the forearm tendons, stand at arm's length from a wall and place the back of the hand on the wall with the fingers pointing down. Gently press against the hand to initiate a stretch. This stretch is good for people with tennis elbow, tendonitis of the elbow with pain that occurs on the outside of the elbow joint. By flipping your hand over so that its palm is against the wall with the fingers pointed down, you can get a different stretch. This stretch works well for people with golfer's elbow, a name given to elbow tendonitis common in golfers.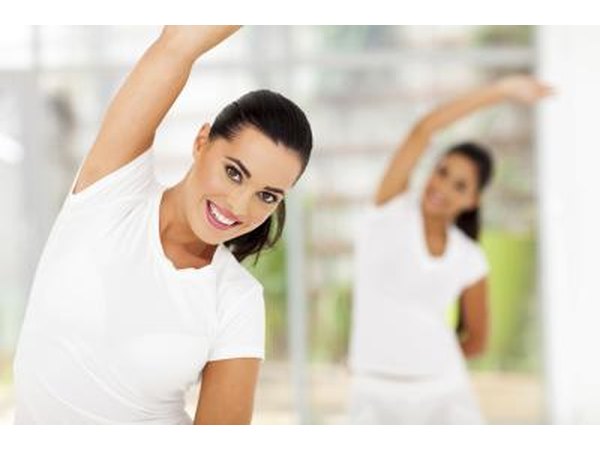 michaeljung/iStock/Getty Images
Wrist curls strengthen the wrists, hands and forearms, which can help reduce elbow tendonitis, especially for those with golfer's elbow. To do wrist curls, find a flat surface, such as a desk or weight bench, and lay the back of your forearm on the surface, allowing your hand to hang over the edge. With the palm facing up, curl the wrist up toward yourself and then back down. To begin, hold a light weight, such as a 1- to 2.5-pound dumbbell or a bottle of water, in your hand as you do wrist curls. As long as you are free from pain, slowly increase the amount of resistance you use as your strength improves. The exercise may cause mild discomfort because the muscles fatigue, but pain is a sign that you may be exacerbating injury. So stop immediately if you feel pain.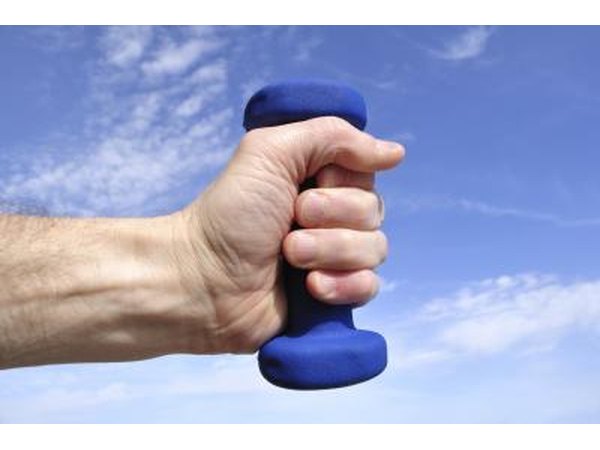 Mark Herreid/iStock/Getty Images
Reverse wrist curls utilize the same basic setup and motion of normal wrist curls except that the palm faces downward during the lift and the front of the forearm, rather than the back of the forearm, is supported on the flat surface. To do reverse wrist curls, use an amount of weight similar to the amount you would use for normal wrist curls, and curl your wrist back toward yourself as it hangs off the supporting surface. Reverse wrist curls tend to be especially beneficial for people suffering from tennis elbow; it is a good idea to do both normal and reverse wrist curls to help promote overall tendon stability in the elbow.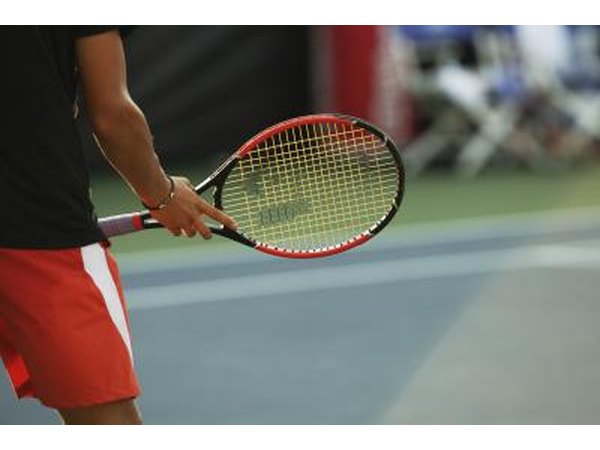 Jonathan Larsen/iStock/Getty Images
Promoted By Zergnet