Teaching English to speakers of other languages requires more than just an understanding of the grammar or perfect pronunciation. Using specific methods and appropriate media, English teachers can better interact with their students and help them achieve their language learning goals.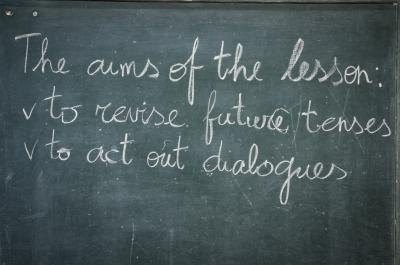 (Marijus Auruskevicius/iStock/Getty Images)
Many different methods and methodologies exist for the teaching of English. The variety of methods are differentiated by their theories of language acquisition and the way the courses, procedures and activities are structured. But at the most basic level, these teaching methods will focus on at least one of the following: grammar, conversation (vocabulary) or conversation (meaning). For example, Latin, which is no longer spoken, is learned via a focus on grammar. French or German, on the other hand, are more commonly learned via conversational methods, which are better suited to languages currently in use.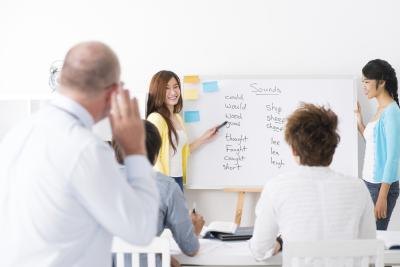 DragonImages/iStock/Getty Images
English is both a verbal and a written language. As a result, the types of media for English learners can be quite varied. Learner's textbooks often include non-authentic written materials (materials that have been created for the textbook) as well as original materials like articles from newspapers and magazines.
Listening exercises and video clips are other kinds of media that can be used in or out of the classroom and aid in a verbal and aural understanding of the language.
Internet and computer-based programs, games, puzzles and "realia" (objects) can also be used to assist the students' learning. These kinds of media are quite popular among students, being more "fun" than the traditional written exercises.
Choosing material for lessons involves knowing your student's level of English, interests and preferences. Look for materials that will keep your students' interest, that are challenging enough to be encouraging but not so difficult that they will become discouraged. Whenever possible, use up-to-date authentic materials that allow students to see how much of their knowledge can be used in a real-life setting.
Experiment to discover the methods that work best for you as a teacher and what media choices are most appreciated (and helpful) for your students. Enjoy being part of their language learning goals!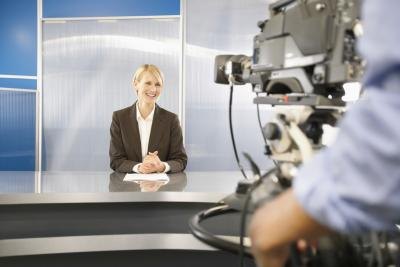 Fuse/Fuse/Getty Images
Promoted By Zergnet