According to the Mayo Clinic, fluid accumulation in the ears often starts with a viral infection. When fluid gets trapped in the middle ear, it may cause an ear infection, which can be very painful. Symptoms of this condition include a fever of 100 degrees or higher, clear fluid draining from the ear, headaches and trouble sleeping. Fluid accumulation in the ears can resolve itself within a few days. But, if symptoms persist, it's important to contact a doctor.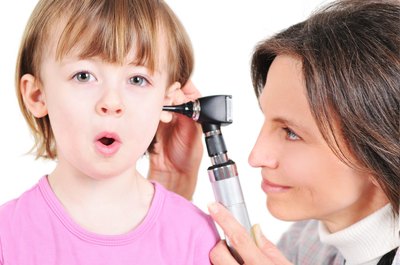 Antibiotic Treatments
Most doctors will wait 72 hours for fluids to drain on their own, according to the Mayo Clinic. However, if the fluid accumulation is causing an infection that doesn't go away, the doctor may prescribe amoxicillin or another antibiotic to fight the infection.
Drainage Tube Treatment
For people who experience regular fluid buildup in the ears and resulting infections, drainage tubes may be needed. This is a surgical procedure in which tubes are inserted in the ears, allowing fluid to drain between the middle ear and outer ear. This procedure is most common in children, and is rarely done in adults.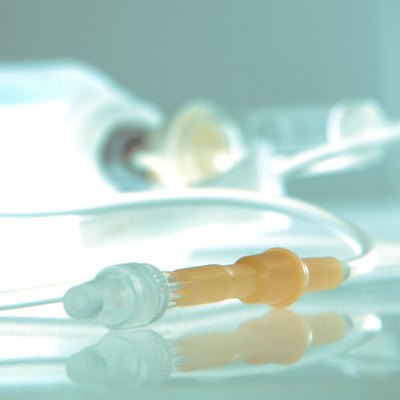 Other Remedies
Using a warm compress can help relieve the pain associated with fluid accumulation in the ears, the Mayo Clinic reports. After time, and as the fluids start to drain naturally (or with the help of antibiotics), the pain will subside. You can also make sure the fluid accumulation is gone by using a home monitor device like EarCheck. These devices are placed in the outer ear, and will tell you if there is fluid accumulation in the ears.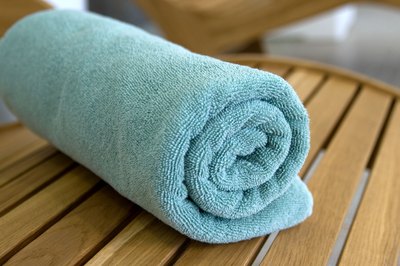 Preventing Future Fluid Accumulation
If bottle-feeding a baby, make sure the child is in an upright position to keep fluid out of the ears. Also, ask your doctor about the Prevnar vaccine. According to the Mayo Clinic, this vaccine can prevent life-threatening infections in children, and may provide some protection against ear infections. Adults who suffer from ear infections should talk with a doctor about allergies. Chronic allergy suffers can prevent fluid buildup in the ears by using decongestants.