An old wives' tale that jumping up and down may induce labor keeps many women curious about how to naturally induce labor. While there are many tried-and-true methods to help accelerate the labor process, women are advised to always seek the advice of their OB/GYN, nurse or midwife before trying any of them. Every woman is different, and what might work for one might not work for another.
Jumping Up and Down
Jumping up and down to induce labor is one of dozens of old wives' tales that are believed to help induce labor. However, be warned that jumping up and down may cause injury to you, the baby, or the placenta during the later stages of pregnancy. Holding onto your tummy and jumping won't help protect your inner organs or blood vessels, and won't stop your baby from being jarred in the womb. Jumping up and down has been tried by women for hundreds of years to hurry the process along, with few safe and effective results.
Physical Activity
While jumping up and down may not prove effective, walking and other forms of non-impact exercise have been known to help stimulate the hormones that induce labor. The key is to stay as active as possible throughout your pregnancy to stay in shape and enhance blood flow and oxygenation to you and the baby. Don't engage in exercise that causes intense jarring after the second trimester, and seek the advice of a professional health care provider for tips on how to encourage a timely delivery.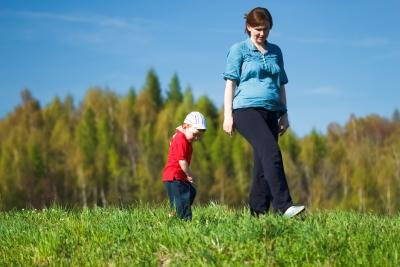 Other Old Wives' Tales
Drinking castor oil, having sex, stimulating your nipples and drinking or eating a variety of herbs are also popular methods to naturally induce labor. However, always keep in mind that your baby will come when he or she is good and ready, and trying to hurry the process along (no matter how tired you are of carrying that extra weight around) may end up injuring the baby. In most situations, a baby's reaction to the labor process can be monitored in the hospital, so trying to induce contractions or delivery at home may be dangerous.