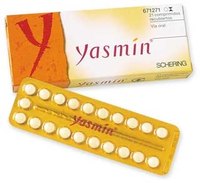 Yasmin is a birth control pill which prevents ovulation and alters the uterine lining to make it more difficult for sperm to reach the uterus. Some women claim that Yasmin is effective not only as an oral contraceptive, but also as a weight loss pill. According to CBS medical correspondent Dr. Emily Senayone, a research team monitored by the American Journal of Obstetrics and Gynecology found that more than half of their 300 female subjects lost an average of two pounds after six months of taking Yasmin.
Use
If you intend to use Yasmin as a weight-loss tool as well as a birth control pill, you should first speak with your doctor. Always consult a medical professional before adding a body-altering drug like Yasmin to your health regimen. Yasmin is 3.0 mg of the progestin drospirenone and 0.030 mg of the estrogen ethinyl estradiol in pill form. Take one pill daily at the same time each day. If weight loss is one of your goals for Yasmin, it is best to take your pill right after your last meal of the day. Taking Yasmin after eating increases the likelihood of weight loss.
Effectiveness
Although Yasmin is highly effective as a birth control pill, it is not reliable as a weight-loss tool. One of Yasmin's active ingredients, drospirenone, is a diuretic which decreases bloating and water retention. As a result, the majority of women lose excess water weight while taking Yasmin. However, it is important to keep in mind that some women actually gain weight while taking Yasmin because it also contains the counterproductive weight-retaining hormone estrogen. Depending on whether your body responds more strongly to the drospirenone or estrogen, you will likely experience either minor weight loss or weight gain while taking Yasmin.

Warning
The estrogen and progestin in Yasmin alter the body's normal regulation of salt and water, which can result in weight loss or weight gain. The alteration of salt and water regulation in the body by Yasmin can also cause serious side effects. Yasmin has been linked to an increased risk for heart attack, stroke and thrombosis.