Aspirin is most commonly used as a painkiller, but it also has anti-inflammatory effects. Aspirin has potential common side effects that include upset stomach and heartburn, which are more likely if too much aspirin is taken, so taking the drug exactly as recommended is essential, according to Drugs.com.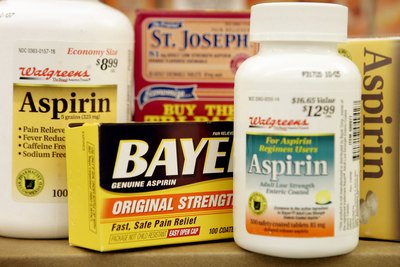 Dosage
Aspirin works by signaling the body to produce compounds that reduce inflammation, according to research conducted by Brigham and Women's Hospital. The 2004 study proves that one low-dose baby aspirin, equivalent to 81 milligrams, is sufficient to trigger these effects.
More is certainly not better in the case of aspirin for anti-inflammatory purposes. The study tested three control groups taking low doses (81mg), medium doses (325mg) and high doses (650mg). The production of anti-inflammatory compounds produced in the body was highest in the low-dose group.
Proper Use
Unwanted side effects can be limited by making sure you take aspirin properly. Read the label to learn the correct dosage and always drink a full glass of water when taking the medicine. Drugs.com recommends a glass of milk or food with aspirin if it tends to cause upset stomach. Aspirin should not be chewed unless the directions on the label specifically say to do so.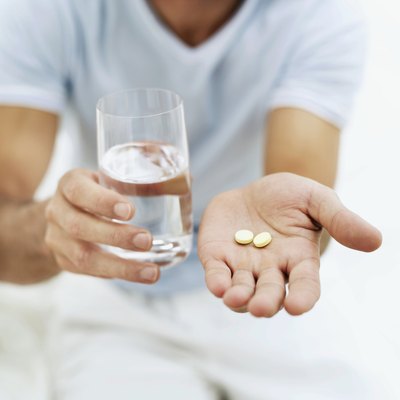 Drug Interactions
Ketorolac (Toradol), another pain-relieving, anti-inflammatory drug, as well as mifepristone (Mifeprex or RU 486), an abortion pill, may have serious interactions. Aspirin should not be taken with either of these drugs, according to RxList.com. Anyone currently using these medications should talk with a physician before beginning an aspirin regimen.
Children or teenagers should not take aspirin if they have a fever, flu or chickenpox, as the combination has been linked to Reye's syndrome.
Other Uses
Aspirin is effective in relieving minor pain and inflammation, but the drug has many other uses. According to Drugs.com, aspirin may be used for reducing fevers and helping to prevent heart attacks and strokes. A doctor should specifically recommend an aspirin regimen for cardiovascular purposes.
The 2004 research on aspirin as an anti-inflammatory drug has implications for the treatment of heart disease and arthritis because these conditions have a direct link to inflammation.