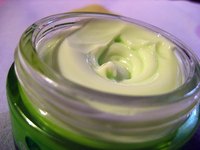 Besides eating right and exercising, one of the best things you can do for your body is be kind to your skin. You can't thumb through a magazine without seeing pages of advertisements for the latest, most high-tech skin creams. What many people don't realize is that you don't need a Ph.D. in chemistry or several hundred dollars to find a skin cream that works for you. You can open your fridge and pantry and with a little bit of creativity come up with some nourishing and cost-saving skin treatments.
Simple Ingredients
A carton of milk and tub of cocoa butter or shea butter can form a base for a healthy and natural skin treatment. These simple ingredients are anything but simple when applied to your skin.
Stories abound about milk being Cleopatra's secret to her seductive beauty. The lactic acid in milk acts as a natural exfoliant, gently sloughing off dead surface skin. Vitamins A and D provide skin with vital nutrients. Milk also soothes red, irritated skin and leaves it feeling silky soft. Full-fat milk is best, since fat is one of milk's nourishing properties.
When you think of butter, you might imagine that yummy condiment spread on bread. Butter used for skin creams, though, generally comes from a nut. Two of the most popular butters for skin cream are coconut butter and shea butter. Both are available at health-food stores. According to the OrganicPharmacy.com, shea nut butter is "packed full of antioxidants, phytochemicals, essential fatty acids and anti-inflammatory steroids." Janet Milton, owner of Ananda Aromatherapy, says because it can repair and nourish the skin, coconut oil has been used for thousands of years in beauty products. It's good for all skin types and is recommended for the use of dermatitis and eczema.
Milk-Based Creams
Use cold milk right out of the carton and dab some on your face and neck with cotton balls. Reapply two or three times, letting it dry in between each application. After a few minutes, rinse your face with water, and your skin will be left feeling silky soft. Add some almond oil to hot milk to make a lightly fragrant skin cream. When cooled, spread it on your face and neck. Oatmeal and honey can be added to warm milk to form a paste that can be used as a mask. Leave it on for five minutes and then rinse in warm water. You can also heat milk up to just before the boiling point, mix it with a teaspoon of lemon and let the milk curdle. After you drain off the liquid you are left with a creamy mixture to spread on your face and neck.
Butter-Based Creams
When using butters, the more you use creates a heavier formula. Heavy creams are good as barrier agents that keep moisture in and provide intense nourishment. Heavy creams are beneficial for feet, elbows or any dry area of skin on your body. Unless your face is very dry, butters or creams with a large quantity of butter can may aggravate already oil prone skin. Mix a small amount of your choice of butter with some almond oil or peppermint oil for a soothing foot treatment. For acne, add a few drops of tea tree oil to the butter. You can make a skin butter that can help combat wrinkles by adding a couple drops of rose or orange oil.
Warning
Before using a new skin cream, test a small amount to check for allergic reactions.