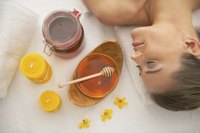 Cleopatra, the mysterious Queen of the Nile, was known for her exquisite beauty, luscious locks and luxurious beauty routine. Although it's not clear exactly what she looked like, over the centuries her allure and mysterious beauty have been portrayed by the likes of Elizabeth Taylor and Vivian Leigh on the silver screen. Her skin care regimen and natural beauty secrets live on and will help you channel your inner goddess.
Rose Water
Roses are symbols of love and their intoxicating scent is one of the most loved formal scents around the world. Cleopatra is rumored to have bathed in rose water. The beauty world has taken hold of this beloved flower and turned it into a key ingredient in skincare products. Beauty editor April Long, in "Why the Rose Is Beauty's New Secret Weapon" in "Elle" magazine, suggests using rose water-based products for hydration and that rose-hip oil can help to treat dark spots. Rose water is also used in aromatherapy for calming and soothing -- so find a perfume with rose notes and you can smell like a goddess all day. Dab rosewater on your wrists for subtle but intoxicating floral air.
Milk and Honey
Many beauty products currently use this royal combination. Honey is a natural antibacterial and helps lock in moisture so your skin doesn't dry out. New York-based dermatologist Debra Jaliman told "Elle" magazine, as noted in the article "Bee Dazzled," that honey works as an anti-inflammatory, moisturizer and antioxidant. When combined with milk, which has alpha hydroxy acids to help exfoliate dead skins cells and generate healthy ones, you get a skin elixir fit for a queen. To reap the benefits, seek out moisturizers, cleansers and creams that highlight both honey and milk as primary ingredients, ensuring the products correspond to your skin type.
Go Bold
Cleopatra wore dramatic makeup -- dark and sultry. She wore crushed lapis lazuli, a blue precious stone, and gold flakes on her eyes for dramatic effect. Recreate the look by applying a gold shadow all over your lid. Don't worry if your skin is pearly white or deep ebony; a shimmery gold complements all complexions. Take a dark blue shadow and apply it to your crease. Use a clean blending brush and blend the dark color down to the gold shadow on your outer lid. You can use a deep purple eye shadow instead of blue; the cool violet tones work perfectly for all eye colors. Take black eyeliner and apply along lash line, and flick out at the ends in a cat eye. Check out Elizabeth Taylor's "Cleopatra" makeup for inspiration.
Take to the Kitchen
The Queen of the Nile is known for her gorgeous raven locks, and she likely used some culinary favorites to keep it that way. Olive oil was a favorite of Cleopatra's to keep her hair lush and soft. Olive oil is great for hair because it contains vitamins A and E, which help to lock in moisture, writes editor Rebecca Moss at "Elle" magazine, in "Out of the Frying Pan: Caring for Hair With Olive Oil." Keep an eye out for products containing olive oil to utilize this cooking oil's benefits. Another favorite of Cleopatra's was apple cider vinegar. Oscar Blandi salon colorist Kyle White told "Allure" magazine -- in the article "Luster Busters: 6 Shiny-Hair Saboteurs" -- that the citric acid in the vinegar helps to remove mineral buildup. To maintain your hair's luster, mix 1 teaspoon of apple cider vinegar with 1 cup of water and pour over your hair after conditioning; wait several minutes, then rinse, and repeat twice a week, suggests White.