When your child develops a cough accompanied by a high fever and breathing difficulties, particularly rapid breathing, pneumonia is a likely cause. If you suspect that your child has this common illness, seek medical attention quickly. Complications can develop, but early treatment can prevent them.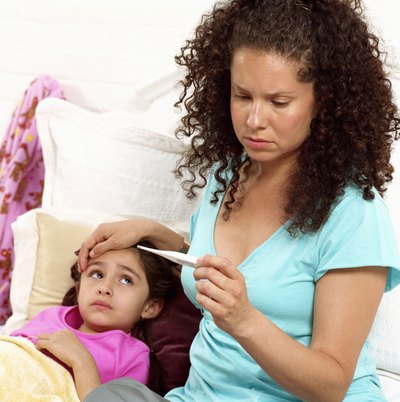 Treating the Cause
Treatment for pneumonia in children starts with identifying the cause. Pneumonia can be bacterial, viral or fungal. Mycoplasma pneumoniae, a macroscopic organism that is similar to bacteria, can also cause the illness. The child's doctor will perform a thorough physical exam to determine the cause prior to prescribing treatment. This will include a chest X-ray and blood tests. Sometimes mucus testing is required. If the cause cannot be determined, the doctor will likely treat the pneumonia as a bacterial infection.
For some children with mild pneumonia, doctors prescribe no medical treatment. The body simply must fight the infection on its own. Bacterial and mycoplasma pneumonia are treated with antibiotics. Symptoms caused by bacterial infections often clear up just a few days after starting antibiotics, and many parents forget to continue giving their children the medicine. Physicians caution against this, as stopping antibiotics too early can cause a repeat infection. This also leads to strains of the bacteria that are resistant to antibiotics.
Viral pneumonia cannot be treated with antibiotics. In severe cases, doctors may prescribe a child an antiviral medication, but viral cases are typically treated with rest and fluids, giving the child's body a chance to fight the infection on its own. Fungal cases of pneumonia are treated using antifungal medications.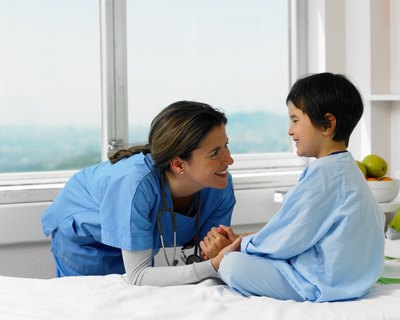 Treating the Symptoms
If your child is suffering from body aches and high fevers as a result of pneumonia, Mayo Clinic suggests using over-the-counter medications, like acetaminophen, to control these symptoms. If your child has a cough, avoid the temptation to administer cough syrup. The FDA is now discouraging cough syrup for children under the age of 6. Older children can have cough medicine if the cough is severe, but a cough is the body's way of breaking up the fluid in the lungs, so Mayo Clinic advises against completely suppressing a cough in an older child. Allow the child to rest and keep offering fluids to avoid dehydration.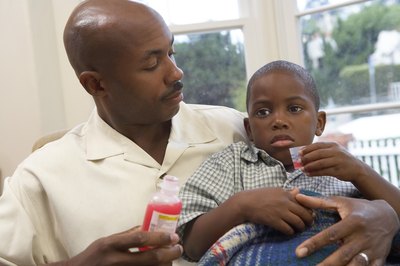 Potential for Hospitalization
Children with pneumonia are at risk for two major complications: dehydration and lack of oxygen. If your child becomes dehydrated, the doctor will likely send him to the hospital for IV fluids. To avoid this, keep the child well hydrated by pushing clear fluids while battling the infection. Children who have difficulty breathing while fighting pneumonia may need to be put on oxygen in the hospital.