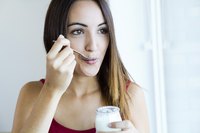 Microorganisms that may improve your health, called probiotics, are found in a wide variety of foods, including fermented foods and yogurts with live active cultures, as well as supplements. Although the research is still somewhat preliminary, probiotics may boost your immune function and prevent illness-causing bacteria from growing out of control in your intestines. The "best" probiotic depends on your needs, health goals and medical history. Talk to your doctor to get a personalized recommendation.
Live Active Organisms
For a probiotic food or supplement to be effective, it needs to contain a significant number of live active organisms. Although some studies have shown benefits from smaller doses, studies using at least 10 billion colony-forming units per day have shown more significant effects, according to a November 2008 review article in American Family Physician. Some conditions may require higher doses for optimal benefit.
The best supplements will state how many colony-forming units should be present on the sell-by date on the package. Choose supplements from a reputable manufacturer, however, as a Consumer Lab study found that 30 percent of these supplements didn't contain the probiotic amount listed on the label.
For Diarrhea and Constipation
There are large numbers of different types of probiotics, but their effects tend to be condition-specific. Not all probiotics will help with all conditions. For example, people looking to limit their risk for antibiotic-associated diarrhea should look for probiotic strains called Lactobacillus rhamnosus GG or S. cerevisiae boulardii, according to a May 2013 review article in Current Nutrition & Food Science. S. cerevisiae boulardii can help limit traveler's diarrhea.
If you suffer from constipation, Bifidobacterium lactis has proved beneficial, according to a study published in the American Journal of Clinical Nutrition in August 2014.
Additional Conditions
Lactobacillus rhamnosus GG has been shown to boost your immunity, according to the 2013 Current Nutrition & Food Science article.
Bacillus coagulans GBI-30, Bifidobacterium infantis 35624 and L. plantarum DSM9843 can help with irritable bowel syndrome, and L. rhamnosus GR-1 and L. reuteri RC-14 can treat urinary tract infections. Two probiotic supplements containing a mix of probiotics, VSL#3 and SCM-III, can also be helpful for IBS.
VSL#3 can be helpful for those with ulcerative colitis, according to a review article published in Clinical Gastroenterology and Hepatology in September 2012.
Other Considerations
It still isn't clear what types of probiotics, and which doses of these probiotics, are best for any given condition. Don't use probiotics in place of the treatment recommended by your doctor. Instead, discuss whether they may be helpful as an additional treatment.
In healthy people, probiotics could cause gas or other mild gastrointestinal side effects. If you have a serious health condition, probiotics may be more likely to cause negative side effects, according to the National Center for Complementary and Integrative Health.