You won't burn many calories if all you do on a rowing machine is scoot the seat back and forth. But with proper technique -- a strong leg drive, paired with body and arm engagement -- you stand to burn more than 700 calories per hour, depending on your body weight.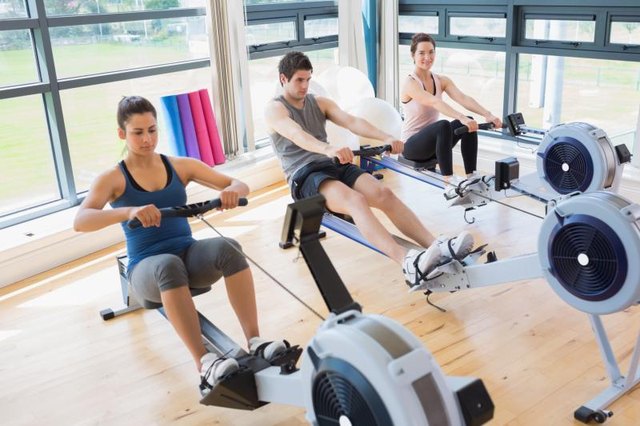 (Wavebreakmedia Ltd/Wavebreak Media/Getty Images)
Your body weight is one of the biggest factors that affects how many calories you burn -- so most calorie burn estimates are tied directly to a certain weight. For example, Harvard Health Publications estimates that if you weigh 185 pounds, you'll burn about 311 calories in half an hour of moderate rowing. If you weighed 135 pounds, you'd only burn 210 calories in the same amount of time.
Your body composition -- how much of your body weight is muscle, and how much is fat -- also affects your calorie burn; the more muscle you have, the more calories you'll burn. But the best way of increasing your calorie burn at any given moment is by increasing your workout intensity, too. If you weigh 185 pounds and either increase your rowing cadence or increase the machine's resistance enough to turn that moderate workout into vigorous exercise, you'll go from burning 311 calories in half an hour to about 377.
That might not seem like much, but it adds up quickly -- if you row for an hour a day six days a week, by the end of the week your intense workouts would have burned almost 800 calories more than moderate workouts. Depending on your calorie intake, that could potentially work out to almost an extra pound of weight loss every month.
If you want the fullest benefit from your rowing machine workout, you have to use proper form. Start with the seat scooted as far forward as it'll comfortably go, arms straight in front of you and torso hinged slightly forward at the hips. Push powerfully with your legs then, as you near the end of the leg drive, hinge slightly back from the hips and draw the handle in toward the middle of your ribs. Reverse those motions to complete the stroke. If you do this right, using 30 percent of the machine's maximum resistance will feel like a challenge.
In addition to an impressive calorie burn, rowing machines tone and build endurance in your back, legs, shoulders and the pulling muscles in your arms. You can adjust workout intensity instantly by simply changing your rowing cadence, so it's easy to tailor your workout to build an impressive level of cardiovascular fitness too. And finally, the rowing machine offers a good core workout, although it should be paired with other core exercises that focus more on your abdominal muscles than your back.
Promoted By Zergnet