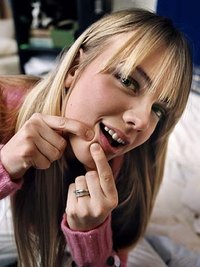 Acne is caused by the overproduction and clogging of certain oils in the skin, including a thick, yellow oil called sebum. Sebum, although nourishing and beneficial to the skin when released in regulated amounts, can cause acne when the skin overproduces it. In order to reduce the amount of sebum released in the skin, follow a strategy for sebum reduction.
Oil Cleansing Method
Sebum overproduction can be caused from the pores "thinking" that the skin does not have enough oil to moisturize itself; therefore, the body produces extra sebum to try to balance the oils out. Sebum production can be reduced by rehydrating the skin with noncomedogenic oils. Certain oils, including olive oil and castor oil, can both cleanse the pores and help balance out oil production in the skin. Apply approximately 1/2 tsp. olive oil and 1/4 tsp. castor oil to the skin, and massage it in well. Lay a warm to hot wet washcloth over the face until it cools, then wipe off the excess oils.
Increasing Oil Intake
Sebum can also become overabundant due to a lack of oils in the system. By reintroducing healthful oils into the system, such as flaxseed or hempseed oil, oil production in the skin may slow down, thereby decreasing sebum production on the skin. You can purchase flaxseed or hempseed oil at any health food store; look for them in the refrigerated section. Take 1 tbsp. oil per day or as directed on the bottle.
Medicating the Skin
Certain medicated creams can reduce sebum production in the skin by using chemicals, such as benzoyl peroxide, that helping to release oxygen onto the skin. Benzoyl peroxide creams come in many different strengths, ranging from 2.5 percent to 10 percent concentrations. According to Acne.Org, using a larger amount of a 2.5 percent concentration should effectively reduce overall sebum production in the skin and reduce acne breakouts.