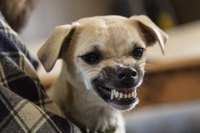 Dog bites occur quite frequently in the United States. In fact, dogs are responsible for more injuries than any other animal. According to the California Department of Public Health, 77 percent of all bites in the state between 2006 and 2010 were from dogs. If you are the victim of a dog bite, seek medical treatment and report the incident, providing authorities with as much documentation as you can.
Apply First Aid
If you are bitten by a dog, immediately employ basic first aid techniques. If the bite is bleeding, apply pressure until the bleeding stops. Wash the wound well, apply antibiotic ointment and cover it with a bandage. If it's been more than five years since you've had a tetanus shot, check with your doctor to see if a booster is needed. Watch the injured area for signs of infection, such as increasing redness, swelling or the presence of pus. If the wound appears infected, immediate medical treatment is needed.
When You Know the Owner
If you are bitten by a dog and you know or can identify the owner, collect as much information as you can about the dog, including his age, breed and when he had his last rabies shot as well as the owner's name and home address. In addition to getting medical treatment, make sure a bite report is filed with the proper authorities, such as animal control, the health department, the county sheriff or local police department. Take pictures of the bite and include them with the bite report. Documentation becomes important if you need to file an insurance claim or if the case ends up in court, which sometimes happens. The authorities will take steps to ensure that the dog is quarantined for the appropriate period -- typically 10 days -- and that the dog is kept under control to prevent future incidents.
When Your Dog Bites You
It can be alarming if the bite you are dealing with is from your own dog. After dealing with the bite itself, you'll need to figure out why he did it. Dogs bite for different reasons, such as out of fear, as a form of dominance, when playing too rough, out of aggression, stress or a health-related issue. Consult an experienced dog trainer for help working with your dog to resolve the issue. Have his veterinarian examine him to determine if he has any health issues. Whatever the reason, it's generally much simpler to deal with a bite when it's your own dog. You know your dog's health history and when he had his last rabies shot. Your local laws may still require you or your doctor to file a bite report, but you'll typically be able to quarantine your dog at home, if it's mandated, and you don't need to worry about a lawsuit.
Bite From an Unknown Dog
A bite from a stray dog doesn't have to be deep to be serious, because there is always the possibility that the dog could be infected with rabies. If the dog can be captured, he will be quarantined at the animal shelter, but if he can't be caught or identified then he can't be observed. Treating the bite is an obvious first step, but your doctor may suggest that you undergo a series of shots to prevent rabies since the dog's rabies status is unknown.