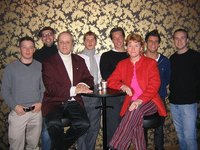 Business meetings are a way to get your employees together to become more familiar with one another, check the progress of individuals and promote the growth of the company as a whole. While business meetings are a necessary part of every business success, they often become cumbersome and repetitiously unproductive. To add new life to your business meetings as well as to catapult your company's productivity margins, consider incorporating creative business meeting ideas to your next mandatory gathering.
Unusual Setting
Surprise your co-workers with an unusual setting for your next business meeting. Choose a location that is beautiful as well as relaxing and begin or end the meeting with a fun activity. For example, you could charter a boat and conduct your meeting out on the open local waterway. This could loosen everyone up, get their creative juices flowing and motivate them to come up with new ideas for a stagnated project. End the meeting with a beach-side picnic to give everyone a chance to bond over their new ideas and form new creative teams.
Game-Themed Meeting
Bring a soft-tip dart board to the meeting and have everyone throw one dart at the board. Have the person who got closest to the bull's-eye begin the meeting by saying "I could help the company get much closer to its goals if I..." This will open up a new thinking window for your group as each person will have their term filling in the blank and coming up with fresh ideas to conquer present challenges.
CEO-Inspired
Have each member of your team stand up and state what they would do if they were in charge of the company. Ask them what changes they would make in terms of organization, structuring and acquiring new business. Offer them the option of writing down their answers and placing them into a communal pot if they would rather remain anonymous with their offerings. This will give you some honest answers and perhaps new directions to go into to strengthen your employee loyalty as well as your bottom line.
Service-Inspired
Poll your employees on what service organizations they are presently volunteering at or would like to in the near future. Offer a gift or unexpected time off to the person who spends the most time in service to needy organizations. Ask if others would like to join you in selecting and volunteering for an organization. This will give your employees an ideal opportunity to get to know one another as well as give them a deeper sense of pride in your business.