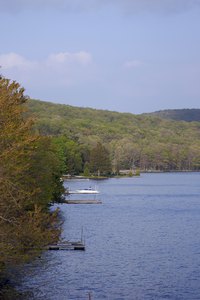 Deep Creek Lake, the largest freshwater lake in Maryland, lures visitors to the state's western panhandle. Surrounded by the Allegheny Mountains, the lake is a natural destination for sports enthusiasts year-round. Small towns and tiny villages with mom and pop stores and fresh farm markets appear unexpectedly on country roads. The lake is busy with boaters and water skiers in the summer, and during the winter, water skis are traded for snow skis at the area's 172-acre four-season resort.
Get Rustic and Get Busy
Deep Creek Lake State Park has launches for both motorized and non-motorized boats as well as a swimming beach, hiking trails and picnic areas equipped with tables and grills. The pet-friendly campground has more than 100 sites, but less than a quarter of them have electrical service. Waterfalls, gorges and the white-water rapids of Youghiogheny River are the highlights of Swallow Falls State Park, nine miles north of Oakland. Most of the 65 campsites at Swallow Falls are rustic, with only a picnic table and fire ring. Both parks are open year-round.
Tour the Countryside
Around 2,000 people call Oakland, Maryland, home. Just southwest of Deep Creek Lake, Oakland is the Garrett County seat and has antique stores, a restored railroad station and an old-time soda fountain. During the summer, the village sponsors free concerts and movie nights. Swing by tiny Swanton, Maryland, for a look at Anderson Chapel, a white frame church built in the 19th century and listed on the National Register of Historic Places. Friendsville, the oldest village in the county, hosts several annual festivals, including a fiddler's contest and a celebration of the Youghiogheny River.
Take to the Water
Outfitters operate white-water rafting expeditions and provide canoe, kayak, Jet Ski and boat rentals. If you're a novice, consider a course at the Deep Creek Sailing School. Junior and adult week-long sessions include both classroom and on-the-water training, but shorter private lessons are also available. Adventure Sports Center International operates one of the few recirculating white-water courses in the U.S. Visitors can bring their own canoe or kayak, rent an inflatable kayak or take a guided raft trip on the 1,700-foot-long course. The adventure center also has hiking trails and rock-climbing areas.
Buckle Your Ski Boots
While many think heading to their summer home at the lake is the only way to enjoy Deep Creek, there's plenty of activity during the winter. Wisp Resort, at the northern end of the lake, has runs for skiing, snowboarding and tubing. Cross-country skiing enthusiasts can swoosh over groomed trails, and a number of adventure companies rent equipment for the sport. The Snowdrifters Snowmobile Club maintains a trail system, and Deep Creek Lake State Park opens its snowmobile trails on December 15th. Ice fishing and ice skating are allowed on the lake.