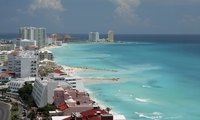 With vacation destinations like Cancun, "cheap" can sometimes turn out to be too expensive. For instance, if you travel to this resort city on Mexico's Yucatan Peninsula expressly to soak up the sun but it rains nonstop, then whatever your holiday cost you was a waste of money. During peak season from November to April, vacationers pay top dollar for the best weather. However, if you time it right, off-peak season has its compensations too -- fewer people, lower prices and the likelihood of plenty of sun and little rain.
Consider the Weather
May, the beginning of off-peak season in Cancun, can be a pleasant month to vacation there. With a 10-year average of 6.7 days with rain, May can be even drier than December and January. Humidity is low and temperatures average 84 degrees Fahrenheit. In June, rainy days increase sharply to 11. Officially, that's also when hurricane season starts, ending Nov. 30, but the highest risk, and the heaviest rains, typically come in September and October.
Booking for Bargains
In May, Cancun's hotels start slashing room rates, sometimes to less than half their peak season prices. To snag the cheapest airfares, Rick Seaney, CEO of FareCompare, recommends that you start browsing for deals one to four months before your intended departure, not banking on snagging last-minute discounts. The cheapest day of the week to fly to and from Cancun is Saturday, Seaney said.