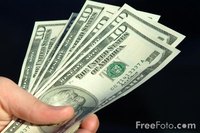 Obtaining free gift cards is easy, but certainly not a task without some legwork. Whether contacting a customer relations department or using a sweepstakes site, there are a number of ways to receive free gift cards. Terms and conditions for free gift cards will vary and should be reviewed prior to receiving the cards.
Sweepstake Sites
Sweepstakes sites like Myinstantwin.com ("My Instant Win") and Online-sweepstakes.com ("Online Sweepstakes) offer an easy way to win free gift cards. When using a sweepstakes site, take advantage of all instant win sweepstakes games that are available. Read the entry rules and conditions and then enter to win. Consider whether or not to enter a instant win sweepstakes game depending on the gift card and gift card amount. In some sweepstakes games, play options include single entries, daily entries, 24-hour entries, unlimited entries, weekly entries and monthly entries. Enter as many sweepstakes as possible to increase your chance of winning a free gift card. If you are a winner, the gift card will be mailed to your postal address.
Survey Sites
Survey sites, like Harrispollonline.com ("Harris Poll Online"), allow consumers to log on and earn points to exchange for free gift certificates and gift cards. Participation or administrative fees are not required and all gift cards are traded for answering survey questions about policies, products, and services offered by government, corporations, and non-profit organizations. Because survey questions help businesses, non-profit organizations and governmental agencies understand the needs and opinions of consumers, survey sites like Harris Poll On-line offer appreciation programs (The Harris Poll On-line Rewards, for example) where consumers can redeem points for free gift cards. When searching for a survey site to join, read the terms and conditions of the reward program. Redeem all points within the time period specified. Only complete surveys related to products or companies to which you are familiar and can honestly provide your opinion. Most rewards program will mail the gift card after a specified number of points have been earned and the consumer redeems the reward.
Customer Service
If you experience an excellent or poor customer service experience, contact the company and provide details about the transaction and store experience. Many companies provide gift cards to consumers who provide customer service feedback or product information. Many customer care representatives will offer a free gift card at the end of the call; however, if the gesture is not immediately made, explain that you expect to receive a free gift card for the time and effort you have made to provide the information given. Another strategy for receiving free gift cards is to contact a large corporation or nationwide retailer or grocer and express a desire to become a new customer. Ask the customer relations agent to send a free gift card (new stores will frequently provide such promotions as well as other coupons) as a welcome gift to local residents. Provide your name and address and wait to receive the gift card by mail. (Many small Mom and Pop stores do not give out gift cards to attract new customers.)