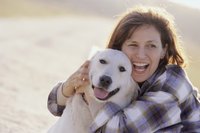 If you're looking in your pup's mouth and all you see is red, take note. A set of healthy dog gums will be pink and firm, or black or spotted like the dog's skin. Red gums can indicate a host of issues in a dog, but most often they're related to dental problems. Sometimes natural remedies will help, but a vet visit is always a good idea.
Periodontal Disease
Gingivitis, when food and bacteria are caught below the gum line, is the first stage of periodontal disease. As the trappings change from tartar to plaque, they harden, becoming difficult to remove. Symptoms of gingivitis include inflamed or bleeding gums, bad breath, tooth stains and damaged teeth. As gingivitis progresses, your dog will have more than red, swollen gums. His gums will recede, exposing the roots of his teeth. Worse, his teeth will begin to fall out. Your dog will require veterinary treatment, which will include teeth scaling and perhaps extraction. The longer you wait, the more invasive the treatment he'll require. While he waits for treatment, vitamins C and E may decrease the swelling and any pain his inflamed gums are causing. A dab of myrrh, calendula or echinacea tincture on a cotton swab wiped along his gum line may give him relief. Two to three drops of oil of oregano combined with 2 teaspoons of coconut oil can be mixed and applied to his gums with a cotton ball. Other options for red, swollen gums include feverfew and colloidal silver.
Keeping Gums Naturally Healthy
Though your ministrations may decrease the redness and swelling in his gums, your dog will need veterinary attention to address the buildup of tartar and plaque on his teeth. Consider your dog's newly cleaned teeth a blank slate, and work from there to keep his teeth in good condition. There are a host of natural remedies to help keep his gums and mouth healthy. A tincture of Oregon grape on your dog's gums can keep bacteria at bay, while fennel and parsley fight infections and freshen breath. Grapefruit seed extract has antiseptic properties to clean his teeth and gums; dilute up to six drops in 5 ounces of water and apply to your dog's teeth and gums with a cotton swab. Bee propolis can be used similarly. Brushing his teeth will go a long way to keeping his gums healthy. Fragaria vesca and baking soda, perhaps mixed with Ceylon cinnamon or coconut oil, are popular natural brushing agents.
Foods for Healthy Gums and Teeth
A healthy diet can help your dog maintain a healthy mouth. Steer clear of snacks that have lots of starch or sugars and incorporate safe vegetables and greens such as broccoli and carrots. Large raw bones, such as marrow bones, will introduce probiotic bacteria and enzymes into your dog's mouth while cleaning his teeth and preventing tartar formation. Cranberries keep bacteria from clinging to his teeth, as well as help keep plaque formation enzymes from forming. Other berries, such as raspberries, blackberries and strawberries have a similar effect, as do melons.
Other Causes of Red Gums
Sometimes when a dog's gums are red there's more going on than periodontal disease. A dog suffering from heat stroke will show bright red gums. If that's the case, there's no time to worry about natural remedies; the dog needs immediate veterinary attention. If his gums are red and he's panting heavily and having a hard time breathing, he needs to get out of the heat and into a cool environment. Spraying him with a garden hose or immersing him in cool water will get his temperature down quickly, buying you time to get him to the vet. Stomatitis also can present inflamed gums, as well as drooling, refusal to eat, mouth ulcers and bad breath. It's usually caused by periodontal disease or something stuck in the dog's teeth or in his tongue. Other diseases, such as kidney failure and leptospirosis, can cause stomatitis as a secondary condition. The primary cause of the stomatitis should be addressed by the vet before worrying about his red gums.