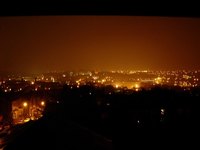 English weather is often thought of as cold and rainy. However, England sometimes also experiences extreme heatwaves and everything in between. Above all else, the weather in England, especially during the summer, is quite unpredictable. To prepare for a range of climates, you must have options. In general, summer is warmer than winter, so make sure to have at least some short-sleeved shirts, skirts and/or shorts. You will also need to keep sweaters and pants on hand for the evening or in case you experience a cold stretch.
Typical English Summers
Although summer is the warmest season in England, on average temperatures don't often top the low 70s. According to Weather Channel statistics, the average high in London in June is 68 degrees F, the average high in July is 73 degrees F and the average high in August is 73 degrees F. With average lows of 52, 57 and 55 degrees F respectively, even London's hottest months are cool compared to the Death Valleys and Dubais of the world. Northern England is even cooler than London and other parts of southern England. The city of York, for instance, experiences average highs of 67 degrees F in July and August, and only 63 degrees F in June. Lows may bring temperatures down to 46 degrees F in June, 50 in July and 52 in August.
Dress for Temperature Variations
Since a given English day may begin warm and end cold, prepare yourself and dress in layers if you are going to be out of the house or hotel for awhile. For a base layer, wear shorts (skirts or dresses for women) and a T-shirt. Bring a sweater or light jacket and a pair of pants along with you if the temperature drops or if you plan to stay out until evening. If you overheat in your sweater, you can always wrap it around your waist. If you plan to spend time in northern England, only pack a few short-sleeved outfits, since temperatures will often drop to the low 50s. If you do not want the hassle of layers, you will most likely remain comfortable in a pair of light pants and a breezy cotton long-sleeved shirt. Check with your hotel or local weather station to ensure no heatwaves are on the horizon. Since most summer days do not top 72 or 73 degrees F, it is doubtful that you will overheat in long-sleeves and pants.
Dress for Percipitation Variations
Just as English temperatures often vary dramatically in the summer, rain may appear out of nowhere. While the summer months are typically less wet than the fall months, averages between 1.5 and 2.1 inches of a rain a month are still common. If you reside or visit the Lake District of England, expect an even greater potential of rain. Carlisle, for instance, gets an average of 2.2 inches of rain in June, 2.44 inches in July and 2.74 inches in August, according to the Weather Channel. Wear a light rain jacket that you can easily stow in your purse, handbag or even briefcase. Even if rain doesn't fall, English skies are often gloomy and overcast. Thus, you must plan for the worst so you don't get stuck in a rainstorm. If it rains and then the sun sets, temperatures will drop to the low 60s or high 50s, and it will take quite awhile to dry off.