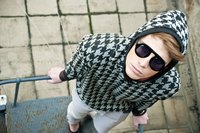 Clothing can sometimes communicate the wrong things about a person. Too loose or too tight clothing might give the wrong impression -- not to mention that it can be unflattering. When your clothes fit just right, you are comfortable, confident and well-equipped to face any challenge the day may bring. Proper fit for pants and jeans is simple after you understand the basics.
Properly Fitting Trousers
Having trousers made to measure is costly, and most of us have to buy off the rack. It's still possible to get a sharp fit. Pants are usually sold in waist and inseam measurements. For example, a 32x30 size indicates a 32-inch waist with a 30-inch inseam. Knowing these measurements goes a long way in picking the best fitting slacks. You can find them by trial and error, trying on pants until you find the waist and inseam measurement that best suits you, but you can ask a sales assistant to take the measurements for you, saving time and resulting in more accurate results. Be sure the assistant takes your waist measurement above your naval -- this is your natural waist.
To test the fit, put on the slacks. Without your shoes, the back of the pant leg should just touch the ground. With shoes on, it should barely touch the floor. Buy slacks that are slightly longer than you need. That way, you can have a professional tailor create the perfect "break," the point at which the pant leg stops on your shoes.
Your style of dress determines the type of pant break you want. A medium break is the industry standard and is worn by conservative guys. The trendy man about town tends to favor a full break. The young modern guy may go for the short break, which creates a "high waters" look.
Properly Fitting Jeans
Nothing beats an old, worn pair of comfortable jeans -- except a nicely fitting pair of new denims. It shouldn't be an arduous task to find a good fit for jeans. For men, start by choosing from slim, regular, relaxed and loose fits. Slim fit jeans hug your thighs. Regular jeans are somewhere between slim fit and relaxed fit. Relaxed fit has an extra inch for a more comfortable rear. Loose fit has up to 4 inches of additional denim, creating a baggy look. Your body type determines which jeans fit you the best. For instance, a heavy man would avoid a tight slim fit as it would create some unfortunate bulging, and a slender man would drown in the excess fabric of a loose fit.
Leg styles for jeans are straight leg, flare and boot-cut. Flare cut jeans are wider around the thigh. Boot-cut jeans flare out at the bottoms.
Sometimes it's hard to find a good inseam length for an average man. Occasionally, you'll have to hem the jeans. If you do, take the jeans to a tailor so he can properly recreate the bottom stitching of the jeans. The hem should be a short hem about 1/2 inch wide. Wash your jeans before having them altered. If you don't, you're newly hemmed jeans might shrink, turning them into capri pants.