Amylose is one of two chemicals that make up starchy foods, the other being amylopectin, and is turned into glucose in the body. Amylose is important in diet circles because foods low in amylose will be broken down faster in the body as opposed to foods high in amylopectin.
Amylose and the Glycemic Index
The Glycemic index is a numerical chart of how fast foods metabolize in the glucose in the blood stream. Foods with low levels of amylose have been shown to cause a slower increase in overall blood sugar, while those with higher levels have been known to cause spikes in blood sugar. The glycemic index provides a list of foods that break down in the body from fastest to slowest.
You can change the amount of amylose and amylopectin through various cooking methods. High temperature boiling of starches can cause much of the amylopectin to be dissipated in the water and a small amount of the amylose. By boiling starches and then letting them cool, you will actually lower its number on the glycemic index. Be wary when boiling starches, as amylopectin will be brought in a greater percentage than amylose. This may cause your food to actually climb the glycemic index because the amylopectin is missing, but the amylose is present. This is not a problem in foods high in amylopectin, but with foods high in amylose, 25 percent or higher, the boiling could make them less healthy.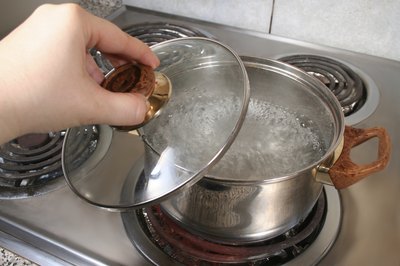 Foods Low in Amylose
Waxy corn has almost no amylose at all, but varieties of corn such as corn starch can be made up of up to 25 percent of amylose. The easy way to tell is the waxier the corn seems to look and feel, the less amylose there is in it. Potato starch is made up of about 20 percent amylose and wheat starch is about 25 percent amylose. This is an important factor when cooking with the various starches. Amylose and amylopectin amounts can vary greatly within similar types of foods, so it is usually best to either go off the glycemic index or by waxiness.
Foods very low in amylose, and therefore better for a diabetic diet and weight loss, include artichoke, asparagus, avocado, broccoli, cauliflower, celery, cucumber, eggplant, green beans, lettuce, low-fat yogurt and peanuts.
Foods to avoid include pretzels, rice cakes, Rice Crispies, corn Chex, rice Chex, instant mashed potatoes, corn flakes, baked potato, instant rice and frozen tofu dessert.