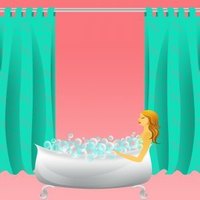 You can relax your muscles the way professionals do, without a trip to the sports or physical therapist and without spending a lot of money. Soaking sore muscles helps loosen them and releases tension, particularly following intense physical activity. A bath soak is not a substitute for seeing a doctor, so if you experience swelling or bruising, see your physician as soon as possible.
What is a Bath Soak?
Athletes and people with injuries use bath soaks for treating sore and strained muscles. Simple place the ingredients of the bath soak into warm or cold water, depending on whether the muscles are swollen or not. For swollen or pulled muscles, prepare a cool or cold bath. For strained, tight muscles prepare a warm or hot bath. You can prepare a bath soak in your regular bathtub, but make sure the tub is clean to prevent infection, especially if you have any open cuts or wounds associated with your injury.
Ingredients and Preparation
To make an herbal bath soak, you will need 1 cup of chamomile leaves, 12 crushed bay leaves, 1/4 cup of rose petals, 1/4 cup of sage, 1/4 cup rosemary and 1/4 cup of oregano, and a piece of cheesecloth and a piece of string or twine. You can purchase these herbal ingredients at your local health food store, and cheesecloth and string can be purchased at any fabric store and most grocery stores. Mix the herbal ingredients together, then bundle them together into the cheesecloth forming a satchel by tying it at the corners. Place the satchel in a bathtub filled with warm or cold water for 10 minutes before getting into the tub. Soak for 15 to 20 minutes to loosen up muscles.
When to See a Doctor
If you are experiencing severe swelling or bruising, or are unable to move your muscles, contact your doctor immediately. You may continue to soak your muscles several times a day to prevent pain and promote healing. Sitting in a hot bath soak can be dehydrating, so take care when getting out of the tub and sit down if you feel lightheaded afterwards. Drink plenty of water, especially if you are soaking your muscles regularly. If your muscles remain sore for longer than a week, contact your doctor.