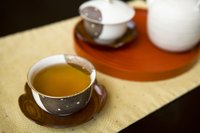 A balanced reduced-calorie diet and an exercise plan provide the foundation for healthy weight loss. Some people take supplements for the potential to increase their success. Of the plethora of weight-loss supplements on the market, you'll find conjugated linoleic acid available with green tea extract. The green tea is meant to boost weight loss. Talk to your doctor before taking supplements of any kind, as they may cause side effects or interact with medications.
About CLA
CLA is a fatty acid derived from linoleic acid and found in animal foods in your diet. The primary sources of CLAs in your diet are dairy and beef. It's also found in other ruminant animals, so wild game like deer, elk and buffalo are good sources. In addition to potential weight-loss benefits, researchers are evaluating CLA for diabetes, heart disease and cancer. So far, however, the evidence isn't strong enough to say whether CLA benefits those conditions.
CLA Promotes Healthy Body Weight
The British Journal of Nutrition published a study evaluating CLA in March 2007. The authors explain that previous research shows CLA helps increase or maintain lean mass while reducing body fat. In their study, they found that CLA significantly reduces body fat after being taken for three months and six months in overweight and obese adults. It caused a significant decrease in waist-to-hip ratio, a measurement used to predict health risk. The fat loss occurred mostly in female subjects, who primarily lost fat from their legs.
CLA and Green Tea
Researchers have yet to evaluate the effects of taking CLA and green tea together. Separately, substances in green tea called catechins have a small effect on weight loss, according to a study published in the September 2009 edition of the International Journal of Obesity. There is no research to say whether CLA and green tea have a combined effect on weight loss or not. Green tea does contain beneficial substances, however, and may promote healthy blood sugar and cholesterol and thus can be a part of a balanced weight-loss diet.
Green tea contains caffeine, although less than coffee. Still, drinking too much increases the risk of side effects from caffeine. To keep with a sensible weight-loss diet, use a low-calorie sweetener for your tea instead of sugar, if you plan on sweetening your tea. Some CLA supplements already have green tea extract in them, so you don't need to drink tea if that's the case.
Supplement Safety
CLA may cause gastrointestinal side effects. These may be mild to moderate and may go away as your body adjusts. If symptoms become bothersome, discontinue use and consult with your health care provider. Green tea interacts with certain medications, in some cases decreasing the effectiveness and in other cases increasing effectiveness. Avoid green tea if you take blood-thinning medication, and consult your doctor first if you are taking prescribed drugs, especially sedatives, beta blockers, lithium or monoamine oxidase inhibitors.