There are many ways to lay out tile, creating beautiful patterns on a floor. Before laying the tiles, consider marking the pattern onto the floor with chalk. You might also begin by marking and laying the tiles in the center of the room, then working your way outward to the walls. This is to ensure you don't end up with mismatched sides, as the outer rows of tiles will most likely require cutting.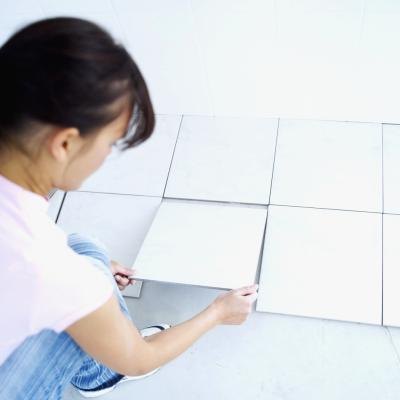 (Stockbyte/Stockbyte/Getty Images)
A black and white chessboard pattern is classic. Of course, the pattern can be implemented using other colors of tile, but it will generally use solid-colored tiles instead of tiles with muted swirls in them. In laying out the tile, the squares can be oriented in rows or turned and oriented as diamonds. Each orientation will offer a different look to a room.
Another pattern might involve tiling the floor in a predominate color and using a secondary color scattered throughout at either regular or irregular intervals. A two-color pattern can also use two different tile sizes, with the secondary color as smaller, inserted tiles at the corners.
Jupiterimages/Creatas/Getty Images
A common two-size tile pattern has the larger tile laid out in a traditional row by column orientation, except that the corners have been cut off. Inset where the corners would have met is a smaller square, turned to make a diamond to fill the missing corners. Often this diamond is a secondary color, but both tiles can be the same color. Square tiles also can have alternating rows offset, laying the pattern out more like bricks than in neat rows and columns.
Other tile patterns create an interlocking design in which two or more sizes are laid out like the pieces of a puzzle. These patterns may incorporate two sizes of squares or use rectangular pieces. One design may incorporate a large square, then four smaller squares that, when combined, take up the same amount of space as the large square. Similarly, you could use two rectangular pieces that take up the same amount of space as the large square when placed side by side. Complex patterns can result from combining a variety of sizes of squares and rectangles.
Hemera Technologies/AbleStock.com/Getty Images
Promoted By Zergnet