Having braces can be the pits sometimes. In the end, the trials and tribulations that braces put you through will be worth it. In the meantime, there are a lot of small details that people with braces must learn if they want to reach that end point, the miraculous time in which the braces finally come off. Unfortunately, one of the most inconvenient parts of having braces is the fact that there are certain foods that you cannot eat.
Avoid Loose Brackets from Hard Foods
One of the clearest indicators of whether or not a certain type of food is OK to eat with braces is its potential for damage. Broken braces and brackets are one of the leading causes of prolonging the time it takes to get braces off for good. Certain foods have more potential to damage braces than others.
Foods that are particularly hard in texture have the most potential for damaging your braces. Whole apples, hard candy, carrots, ice and potato chips are just a few of the many hard or crunchy foods that might break your appliance. Be careful when eating them, cut them up into bite-sized pieces or avoid them altogether.
Foods You Can Eat
Now that you know what you can't eat, you may wonder what you can eat. Anything that is bite-sized or can be cut up into bite-sized pieces can be eaten with braces. This may even include some of the aforementioned foods. While sticky or gooey foods may not be the best idea, most things can be eaten with extra care and prompt inspection of the braces after eating.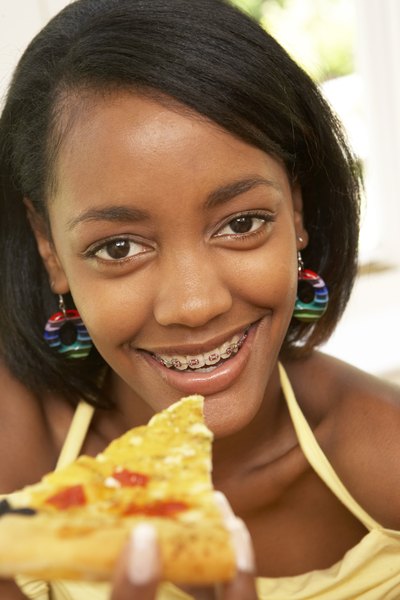 Harmful and Acceptable Beverages
Just as there are issues with eating for those who wear braces, knowing what is and is not a good idea to drink is just as important. With braces in your mouth, sugars and acids have something else to stick to. This can make it difficult to fully clean the mouth as easily as before you had braces. Avoid drinks such as soda and juice that are full of sugar. Water is your best bet, but when that is not always possible drink out of a straw and brush your teeth promptly after drinking.