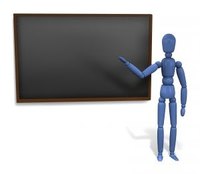 Learning and development typically involves enabling structured and unstructured training activities to improve the skills of a workforce. When you create a strategic plan, you document what you do, who your learners are and what your short- and long-term plans include. The process for establishing the vision (which defines the future state) and the mission (which describes the goals and purpose) is usually completed by a small group.
Plan Elements
A strategic plan for learning and development activities should align closely with a company's overall strategic plan. Your plan must respond to the needs of the organization, so before you begin formulating your purpose, consider conducting a thorough needs and audience analysis to understand the current state. Then decide on a primary purpose. For example, the goal of your learning and development program may be to produce company leaders. You may also need to address issues such as incorporating major changes from previous strategies. For example, your current plan may focus on experiential (self-paced) learning as opposed to formal educational lectures, so you need to specify activities to make your company aware of the new techniques.
You may divide your plan into programs for functional levels--for example, service, management and executive leadership. Next, you need to define job competencies. The idea is that a competency is the combination of skills and behaviors that enable a person to do a task. Skills are "what" is done and behavior is "how" it is done. Therefore, a competency is the overall effect it has.
Make provisions for both personal and team development to enable operational results that benefit the company. Establish goals for each area. For example, you may state a goal for each company division to develop collaborative partnerships in the community. Then, write a statement for your plan that indicates what you will do to achieve that goal. For example, to develop skills in collaboration, you may plan on providing training materials on how to manage community websites.
You may further divide your plan into programs for new employees, industry standard certifications, professional skill development (such as listening skills, presentation skills and managing conflict skills) and management training. You may include training programs as part of your reward and recognition programs or even as part of your retention strategy.
Also, set goals and strategies for adhering to the values of the company. For example, your company may value creativity, integrity and diversity. Your plan should then list activities to support skill development in those areas.
Finally, distribute your strategic plan to employees so they are all aware of your intent. A robust strategy for learning and development contributes to continuous improvement and company success.