Making a homemade costume for your teen can be challenging. Teens have a tendency to want to be cool and may turn their nose up at the idea of a homemade costume. Try to think of something fun for them that they can help create. There are several ideas for homemade costumes for teenagers.
(ISO3000/iStock/Getty Images)
You will need a short, sleeveless, silk or satin nightgown, along with a long-sleeved white sweater, long skirt (a full gypsy type), poster board, ribbons for the hat, hot glue and elastic or fabric for the hat. Put on the sweater and long skirt. You will make the bodice with the nightgown worn over the sweater. Cut the nightgown to fingertip length and gather the hem from the center and bring it up to the waist. Use the hot glue to secure the bodice. Last, make a cone-shaped hat from the poster board. Roll the poster board so it becomes shaped like a cone and staple it. Cover it with fabric and staple ribbons to the top of the hat.
Ivan Bliznetsov/iStock/Getty Images
This is a super easy and funny idea for a teen costume. Have him dress in dark colors from head to toe. Pin things all over that would be found on a floor of a movie theater; for instance, popcorn, napkins, gum wrappers, ticket stubs, straws and candy wrappers. This is not only easy but very inexpensive.
All you need for this type of costume is some ragged clothes, makeup or zombie mask, and homemade fake blood. If you don't have ragged-looking clothes, you can take old clothes and use a cheese grater to cut them up and make them look worn and shredded. Make your hair as messy as you can. You can rat it out and make it big and stringy. Smear black eyeshadow and eyeliner on your face to give it the zombie look. Add some fake blood to your face, body and clothes. You can make fake blood out of Karo syrup, water, red food coloring and yellow food coloring.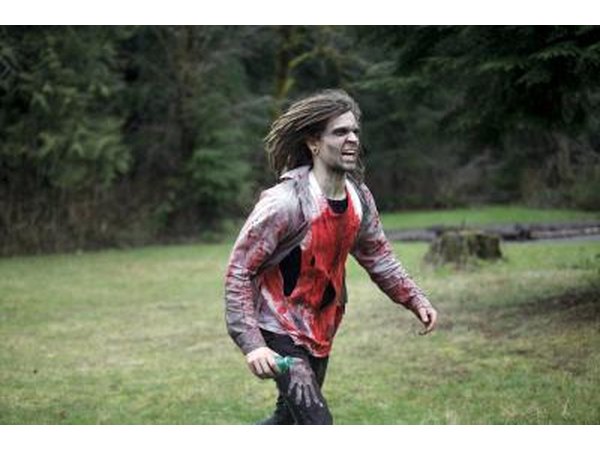 Natalie Behring/Getty Images News/Getty Images
Promoted By Zergnet