Rheumatoid arthritis (RA) is classified as an autoimmune disorder that is chronic and without an identifiable cause or cure. RA is associated with joint pain and inflammation, inflamed and sore muscle tissues, tense muscles, fatigue, a diminished appetite, weakness, bodily aches and pains, and poor range of motion. Sometimes RA is accompanied by a fever, lung inflammation, pallor, inflammation of the skin and swollen glands. Rarely, RA symptoms include migraines, which suggest the need for immediate medical treatment.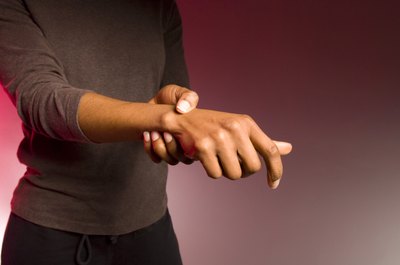 Migraines
Migraines are severe headaches; they can be painless or painful. Painless migraines might involve visual difficulties where you see auras, you have a blind spot in one or both eyes, you experience tunnel vision or you see zigzagging lines of stars. These symptoms may also be a precursor to the onset of a migraine where you experience intense pain on one side of the head, nausea, dizziness, light sensitivity and vomiting.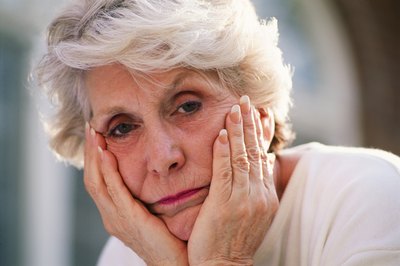 Neck and Shoulder Tension in RA Patients
Sometimes an RA patient may experience muscle stiffness and tightness in the shoulders and neck. When you have RA, your immune system attacks healthy tissues and joints in your body and treats them like foreign bodies that need to be destroyed. The end result is that tissues and joints become inflamed, painful and stiff. The tightened muscles, tension and limited range of mobility, if in the region of the neck and shoulders, can cause severe headaches or migraines. The use of anti-inflammatory medications, physical therapy and gentle stretching can help diminish muscle tension. In turn, your cluster headaches may lessen.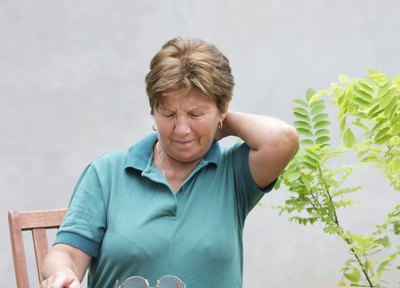 Felty Syndrome
Felty Syndrome is a medical complication that RA sufferers occasionally endure. Tthe condition is associated with symptoms like blood abnormalities and an enlarged spleen. You may also experience malaise, fatigue, weight loss, excessive joint pain, joint deformities, recurrent infections, sinusitis, bronchitis, ulcers on the legs, swollen lymph nodes, pallor, frequent headaches or migraines and pain in the upper left portion of your abdomen. You will need a blood test to confirm any blood abnormalities associated with the condition like reduced neutrophils, low white blood cells, low blood platelets, low granular white blood cells and anemia.
People who have had RA for many years are more likely to develop Felty Syndrome. If you have any of the above-mentioned symptoms and you suffer from RA, you should contact your physician or immunologist about treating the infections with antibiotics, and about managing your RA with powerful RA medications for immune system suppression. In severe cases, sometimes a splenectomy is needed, which involves the removal of your spleen.
Hyperprolactinemia
Hyperprolactinemia is associated with the rheumatoid arthritis as well as other autoimmune disorders like multiple sclerosis, lupus erythematosus, Sjogren's syndrome and Hashimoto's thyroiditis. Symptoms include headaches or migraines, amenorrhea, menstrual complications, milk production in the absence of pregnancy in women, infertility, erectile dysfunction in males, a diminished libido and osteoporosis. When hyperprolactinemia occurs, the body creates an excessive amount of prolactin, a hormone, which can lend to imbalances in your metabolic functioning. It is sometimes caused by a tumor in the pituitary gland. Treatment for the condition involves the use of medications like Bromocriptine, Pergolide, Cabergolide and Quinagolide. Sometimes surgery is required to remove cancerous tissues as well.