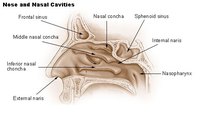 Nosebleeds are a common phenomenon seen all the way from childhood through adulthood. Nosebleeds are usually caused by environmental factors, such as dry air, or by trauma to the nose. When a nosebleed occurs, there are a few first aid tips you should employ to get the bleeding to stop. According to the Mayo Clinic, if the nosebleed continues for more than 20 minutes, you should seek medical help.
Stay Upright
The first thing to do for a nosebleed is to stay upright. When you sit upright and lean forward, the blood pressure in your nose is reduced. This helps lower the pressure of the blood being pushed out of the nose and gives the body a chance to stop the bleeding. Leaning forward keeps the blood running out of your nose instead of running down your throat.
Pinch Nose
Applying pressure to the nose by pinching can also help stop the bleeding. Pressure can help stop the blood long enough for the body to scab the opening. Be sure to breathe regularly through your mouth while pinching your nose closed. Check to see if the bleeding has stopped after 10 minutes of holding.
Leave It Alone
One mistake that many people make is picking or playing with their nose after the bleeding has stopped. This can quickly reopen the bleeding point on the septum and start the flow of blood again.
Cauterizing
Those who get constant nosebleeds might want to consider having the problem fixed surgically. Frequent nosebleeds are usually caused by the same blood vessel each time. Your doctor can determine whether you qualify to have the blood vessel cauterized. Cauterizing involves taking a special piece of medical equipment and using an electrical charge, laser or silver nitrate to block blood from entering the damaged vessel that is causing the nosebleeds.