Potassium chloride is readily available in fruits and vegetables. It is also the main ingredient in salt substitutes. Potassium, chloride and sodium are the three electrolyte elements. They are called electrolytes because when they are dissolved in water, they become ions and conduct electricity. Potassium chloride is also a food additive classified in the CODEX Alimentarius that acts as a stabilizer and thickener.
Potassium Chloride in the Body
Potassium is usually found inside cells. It is the major positive ion found in cells. Chloride is usually found outside cells. It is the major negatively charged ion outside the cells. Potassium chloride can be lost due to fluid loss. Vomiting, diarrhea and excessive sweating can all cause you to lose too much potassium, chloride and sodium. However, most Americans consume enough sodium and chloride in their diets in table salt. Potassium is also readily available in the average diet.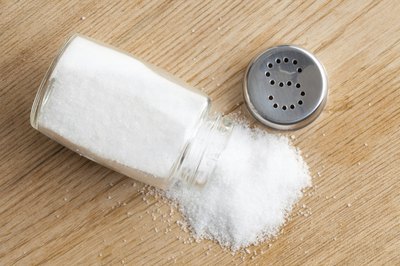 Potassium Chloride Functions
Potassium can help your muscles and nerves function properly, keep your electrolytes in balance and help regulate your blood pressure. Signs of potassium deficiency include muscle weakness, confusion, irritability and heart disease. Also fluid loss from diarrhea, vomiting or excessive exercise (causing excessive sweating) can all contribute to potassium deficiency. Chloride is abundant in our diets thanks to table salt. Seaweed, rye, tomatoes, olives, lettuce and celery are all high in chloride. Sea water has almost the same concentration of chloride as the human body does.
Potassium in Foods
In the April 2005 issue of the journal "Hypertension," researchers found that eating a diet rich in potassium had the same effect on lowering blood pressure as did supplements of potassium chloride. Foods rich in potassium include most fruits and vegetables. Healthy foods that are also rich in potassium, according to the website World's Healthiest Foods, include Swiss chard, Crimini mushrooms, spinach, celery, basil, mustard greens, fennel and broccoli.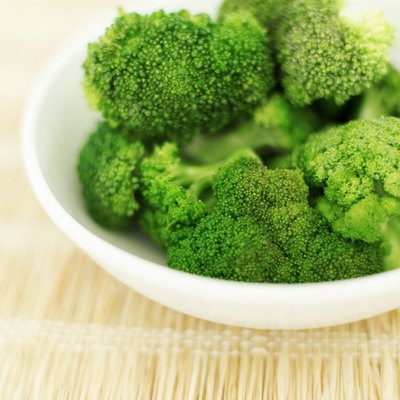 Sodium and Potassium
Sodium and potassium work together in the body in what is called the sodium-potassium pump. This interaction ensures healthy nerve function and aids in muscle contraction. Keeping these electrolytes in balance, so that there is not too much of one or the other, is important. Because Americans tend to get an abundance of sodium, potassium is more likely to be deficient or imbalanced in the diet.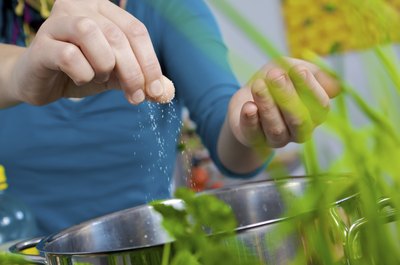 Potassium Chloride in Foods
Potassium chloride is an additive as well. Foods which are high in potassium chloride include artificially sweetened jellies and foods containing carrageenan. Potassium chloride is also used to replace sodium in low sodium foods. As a stabilizer, potassium chloride is found in chocolate milk and other dairy products to keep ingredients suspended.