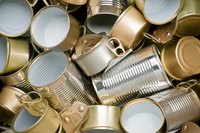 Whether you simply prefer doing things yourself, or are trying to keep costs down, making your own camping equipment can add an element of satisfaction to your outdoor experience. Unless you're very skilled, don't make gear that's critical to your survival. For instance, if you're camping in subzero weather, you'll need a sleeping bag rated to keep you warm in extreme temperatures, not a homemade version that keeps you comfortable only on summer nights.
Staying Dry
Shelter is arguably the most important part of your gear, though industrious campers know how to build a simple lean-to or an igloo from materials at hand. If the prospect of creating shelter in a downpour or before night falls is daunting to you, consider carrying an inexpensive tarp to drape over a low-hanging branch if you're certain the weather won't be inclement. Most tarps have grommets you can drive a tent stake through or use for rope tie-downs. For more substantial shelter, buy a length of Tyvek, the sturdy material builders use on houses. It's waterproof and unlikely to ravel or tear. Sew a hem around all four edges and insert grommets in the hem. If you're car camping, you can attach your tarp to your vehicle's tailgate, hatch or trunk.
A Good Night's Sleep
A bad night's sleep may well ruin your camping trip, but there are inexpensive alternatives to high-end sleeping bags. Head to a thrift store in search of a quilt, down comforter or wool blanket. Fold it in half the long way and stitch it along one of the short ends and down the long end. Or, use hook and loop tape in place of thread to make a sleeping bag you can open. A tarp, plastic shower curtain, contractor bag or trash compactor bag makes a good ground cloth beneath your sleeping bag. Stuff clothes into a large resealable plastic bag for a pillow. Make a sleeping hammock from a large rectangle of sturdy fabric. Gather the fabric at one of the short ends and sew it tightly together. Attach a carabiner and repeat the process with the other short end.
Other Gear
A sturdy walking stick is a must-have if your camping trip includes hiking. Creating your own is a long-term project, but the finished product is worth the time and costs nothing. Find a sturdy, shoulder-height branch. Strip off the bark and whittle away rough spots that might snag. Whenever you have a moment, rub the stick with your hands. The oil will eventually produce a smooth, shiny patina. Coat the inside of a clear glass jar with glow-in-the-dark paint for a fun camping lantern, or use small, clear glass jars as votive candle holders. Make a handle by twisting wire or a coat hanger around the mouth of the jar with a loop at the top for hanging.
Home Cooking
Make a simple camp stove from a large aluminum can. Remove the top and punch large holes around the can near the top and bottom. Burn charcoal in the bottom and set your cooking pan on top. Save and wash the foil pans that TV dinners come in. Load them with prepared food, cover with aluminum foil and set them at the edge of your campfire to reheat. Rotate the pan a few times during reheating so the food warms evenly. Aluminum foil can replace most of your cookware. Wrap meat or vegetables in foil and place them in the coals of your campfire. Use foil to line the grill grate to prevent smaller food items from falling into the fire.