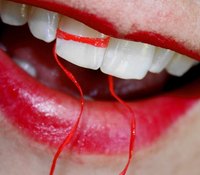 If your gums are bleeding, you could be suffering from poor dental hygiene or from a more serious condition. You can improve your dental hygiene and create healthier gums. However, it is no substitute for proper care from a dentist. Untreated dental conditions can cost you your teeth, and may lead to more serious health conditions according to the American Academy of Periodontology.
Brush, Floss, Rinse
Brushing and flossing should take you about five minutes, twice daily. You'll need two toothbrushes, one for the morning and one for the evening. Consider purchasing an electric toothbrush: it can remove about 98 percent of the plaque on your teeth, while brushing by hand removes less than 50 percent.
Hold your toothbrush at your gum line, where your teeth and gums meet, at about a 45-degree angle. Brush gently but thoroughly, paying attention to all surfaces of your teeth. Consider using baking soda instead of toothpaste. Floss after you brush.
Rinse thoroughly after you brush and floss. You may want to rinse with mixture of half 3 percent hydrogen peroxide solution and half water to kill germs, or use a medicated mouthwash like Listerine. Other rinses for bleeding gums may include chamomile, peppermint oil, calendula, salt, menthol, tea tree oil or sage.
Improve Circulation
You can massage your gums using your thumb and forefinger. This will improve circulation in your gums. Eating raw vegetables helps improve circulation in your gums as well. You can also use a gum stimulator or an oral irrigation unit.
Improve Your Health
Eat plenty of citrus fruits or take vitamin C to help prevent your gums from bleeding. Drink milk or eat green leafy vegetables to get plenty of calcium for strong bones and teeth. If you smoke or use other tobacco products, stop. Avoid drinking alcohol which can also dry out your mouth.