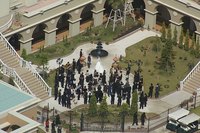 Wedding planning can become a lucrative at-home business. Whether you're planning weddings on the side or intend to work at this full-time, you'll need a name. With the right name for your wedding planning business, you can bring in more clientele. Although there are legal rules for business names depending on your state, this shouldn't interfere with the creative naming process.
Research and Rules
Before you start thinking of names, first start researching the other event planning businesses in your area. Having a good idea of the trends will help you avoid any pitfalls. Plus, there are common business names among wedding planning businesses. You'll want to avoid having a similarly sounding name than the business on the other side of town. Not only that, but having the same name as another business could infringe on their trademark, according to U.S. Small Business Administration. Either search online for wedding planning businesses in your area, or look through your local phone directory.
You will also need to research the laws in your state regarding business name requirements. For instance, some states require that you use your own name as your business name if you plan to be the sole proprietor. If you plan to have a unique business name besides your own personal name, then you would need to file a trademark. To find out what your state requires, use the Secretary of State information in the resource section at the bottom of the page.
Naming Tips
Before you start making a list of possible business names, you should think about the future and the potential growth of your company. While you may want to plan weddings exclusively now, you might consider broadening that to other event planning in the future such as bar mitzvahs or office holiday parties. Because of that, avoid business names that focus on weddings. If you're sure you wouldn't mind focusing on weddings for the remainder of your business years, then a wedding-themed business name would be best.
Avoid choosing generic names or words for your wedding planning business. If you have a look through your local phone directory, you will see dozens of businesses that start with numbers or the letter 'A' so they can be listed first. Not only is this an obvious tactic, but it creates boring business names. Wedding planning businesses like A1 Wedding Planning or 911 Weddings aren't going to be chosen by most brides.
Make a list of words that describe your business. Think of what sets your wedding planning business apart from others in the area. Do you provide clarity? Do you help the bride with anything she needs? Consider words like these when naming your wedding planning business.
A safe bet would be to use your last name in the name of your business. This is perfect for those who can't think of a unique name. Sylvio Wedding Planning or McFadden Events will not only set your business apart from the rest; this kind of name will also keep you as the owner memorable and sought-after as well.