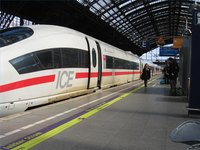 Once you've booked your flight and hotels, it's time to pack. The varied geography, climate and culture of European nations make the continent a fantastic place to travel and vacation, but can also make packing tricky. Do some general research before you start packing--especially for information on weather and climate. Otherwise, you could be in for an uncomfortable trip.
Pack Appropriate Clothing
Know what to expect where you'll be traveling. Central Europe (Germany, Eastern France, the Czech Republic, Denmark) has a seasonal climate similar to that of the Midwest in the United States. Spain and Italy are fairly warm for most of the year and can get especially hot during the summer tourist season. Pack jackets or leave them at home accordingly. Also, keep in mind that many European buildings have no air conditioning or central heating.
Take at least one pair of comfortable walking shoes, too. You will be doing a lot of walking, no matter where in Europe you are traveling.
Bring Electric Adapters
European outlets use two-pronged, circular plugs. You will need adapters for computer plugs and cellular phone chargers, and voltage converters for hair driers and curling irons. European outlets operate at 220 volts, so you will need converters for high-power heating appliances (those hair driers and curling irons). Without a voltage converter, you risk blowing fuses or electrocuting yourself.
Adapters and converters are available in most major electronics stores.
Also, do not bring an alarm clock from home unless it is battery-powered. Most alarm clocks regulate time-keeping based on the electrical current. Because the current is different in Europe, your clock will run slow.
Find a Compatible Phone
Most people travel with cellular phones these days. However, most European countries use GSM, SIM-based phones. While some American cellular providers use GSM compatible phones (notably T-Mobile, which is actually a subsidy of Germany's Deutsche Telekom), most providers use CDMA phones incompatible with European networks. If you are staying in a single country for a long period, consider buying a pay-as-you-go phone. These are available at kiosks that are common in most cities.
Another option is to rent an international phone from a company such as Cellhire. If you do rent a phone, pay close attention to whether you are billed in dollars or euros. The exchange rate could cost you extra if you're billed in euros.
Buy a Eurorail Pass
Trains are the most convenient transportation across Europe. They are more comfortable than the discount airlines like EasyJet and RyanAir, and their schedules are generally flexible. Eurorail passes offer entire days' worth of heavily discounted rail travel, and can be purchased for different time-frames, depending on the length of your trip. The cost of a five-day pass is often cheaper than many two-way rail tickets.
For more information visit Eurorail's website.
Bring Pocket Dictionaries
Europeans speak English to varying degrees. You can get along with English in Germany, France, the Netherlands and the Scandinavian countries, but less so in Spain and Italy. If you are visiting the Czech Republic, Slovakia or Poland, there will be times you won't even feel literate.
As a general rule, buy pocket dictionaries for wherever you are traveling. In addition to helping you understand warnings, schedules, maps and labels, they will provide you with a few common phrases. Try and speak the native language whenever possible, even if you can only manage "please," "thank you" and "hello/goodbye." A little effort can go a long way with the locals.