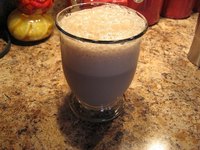 When losing weight, it is important to lose fat, and not lean muscle mass. Maintaining lean muscle mass is important because lean muscle burns more calories, making it easier to keep weight off. When obese participants in a low-calorie diet study consumed a whey protein supplement, they lost more fat and maintained more muscle, according to a study published in the journal Nutrition and Metabolism in 2008 (see References).
Why Whey Protein Works
A common problem in dieting is feeling hungry and unsatisfied. Whey protein helps support weight loss by helping you feel more satisfied with your reduced food intake. Research studies show that whey protein does a better job of doing this than other types of protein supplements (see References). Diets rich in whey protein may also help your body respond more favorably to the insulin you secrete. Insulin resistance is a precursor to diabetes and is common among many overweight people.
Sources of Whey Protein
Whey protein supplements are derived from milk. There are a number of different brands available on the market. You can purchase ready-to-drink protein shakes, or powders to make your own beverages. There are unflavored options which allow you to customize your beverages or meals, as well as soups that are supplemented with whey protein. When choosing a whey protein product, note the difference between supplements and meal replacement, the latter of which has more complete nutrition.
Choosing a Whey Protein Plan
There are a number of diet plans that use whey protein-based supplements or meal replacements. The UNJURY plan for weight loss calls for up to five servings of their whey protein product each day together with servings of lean protein, vegetables and fruits, water, and a multivitamin and mineral supplement. UNJURY protein supplements are sometimes used as a precursor to or after weight loss surgery, although the weight loss plan can stand alone.