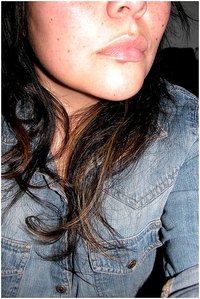 Fever blisters are commonly referred to as cold sores. They are caused by the herpes simplex virus type I and type 2. Fever blisters occur on the lip or around the lip (versus canker sores, which occur inside the mouth). These blisters are contagious, and once you have contracted the herpes simplex virus, it stays in your body forever. It can remain dormant for a time and then erupt in the form of a fever blister at any time.
Hydrogen Peroxide
Keep the area where your fever blister has broken out clean. Wash your face with soap and water. This will help to get rid of the fever blister you have, and keep new fever blisters from forming. Once you clean the area, dry it out. Fever blisters need moisture to grow. Hydrogen peroxide will dry up the fever blister and take away the conditions the fever blister needs to survive. The fever blister will then quickly dry up and wither away. Use a cotton ball to dab hydrogen peroxide on your blister every three to four hours until it is gone.
Peppermint Oil
Peppermint has antiviral properties, and can naturally fight the virus that is causing the fever blister to erupt. Wash your hands and the area where the fever blister is, then drip two drops of peppermint oil on the fever blister. Put the peppermint oil away and wash your hands again. This will ensure that you don't spread the virus. Continue doing this every three hours until the fever blister is gone.
Denavir
Denavir is a prescription-strength antiviral medication that you can get from your family physician. It is approved by the FDA. Denavir comes in a cream that you apply directly to your fever blister. How often you are allowed to do this depends on your doctor. The Denavir will work to begin getting rid of the cold sore so that you are not suffering from it for an entire week or longer. The earlier you begin using Denavir, the better your outcome will be. If you have a history of fever blisters, begin using the Denavir as soon as you feel a tingle--don't wait for a full blown-out fever blister before you begin applying the medication. Again, make sure that you wash your hands before and after applying the Denavir.