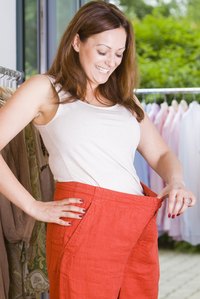 You've had the surgery, now you're ready to lose the weight. Even though your stomach is now the size of an egg, you can't just eat a smaller amount than you used to. The diet following a Roux-en-Y gastric bypass is designed to help you heal from surgery, promote weight loss and teach you how to eat to keep the weight off. Talk to your doctor or dietitian about your dietary needs after your gastric bypass surgery.
Start With Liquids
Initially after your surgery, your diet is limited to liquids. The length of time you stay on the liquid diet depends on your tolerance and surgeon; it can last up to 10 days.
Foods allowed on the liquid diet include broth, unsweetened juice, decaf tea or coffee, sugar-free gelatin and sugar-free fruit ice. After you tolerate these clear liquids, your doctor may add skim and low-fat milk to your diet. Drink your liquids slowly, taking in no more than 2 ounces to 3 ounces at a time, warns MayoClinic.org.
Followed by Pureed Diet
You'll advance to a pureed diet as tolerated. Your food should be the consistency of a smooth paste or thick liquid without any solid pieces. Include foods that blend easily such as ground meats or poultry, fish, beans, eggs, soft fruits, cooked vegetables and cottage cheese. Use nonfat milk, broth, water or unsweetened juice to help you get your food to the right consistency. Cream of wheat, blended oatmeal and yogurt without pieces of fruit may also be allowed during this stage of your diet.
Almost There With Soft Foods
After you've spent a few weeks on the pureed diet, your doctor may suggest you start adding soft foods. Foods should be tender and easy to chew and must be cut into small pieces. You're also allowed ground meats, canned fruits, soft fruits without seeds and soft-cooked vegetables during this stage of your diet.
Reintroducing Solid Foods
About eight weeks after your Roux-en-Y gastric bypass, the doctor may give you the OK to start reintroducing regular firm food. However, you should still cut food up into bite-size pieces to aid in digestion. Start slowly and experiment with different types of foods to see what you tolerate.
Avoid nuts, seeds, broccoli, celery, tough meats, fried foods, popcorn, dried fruit and carbonated beverages at this stage.
Regular Diet
After about three to four months, you should be eating mostly regular, healthy foods to continue your weight loss. Your meals should still be small in size to compensate for your reduced stomach size. You should also center each meal around protein, such as poultry, fish or lean red meat, to ensure you meet your protein needs.