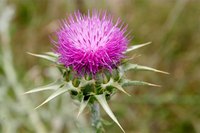 Because your liver both removes toxins from your body and absorbs vitamins and minerals that you take in from food, it is extremely important that it work at peak condition. Liver troubles can be caused by too many toxins and a higher than normal concentration of vitamins. Here are some herbs that can help to detoxify, fortify and heal your liver. Consult a doctor before adding any herbal supplements.
Liver Detoxification
Whether you have been diagnosed with a liver disease or you are just interested in a liver clean slate, your first step is to detoxify your liver. The most well-known herb for the liver is milk thistle, which can protect, repair and renew liver cells, remove toxins and prevent free-radical damage. Try three cups a day of milk thistle tea made from the herb's crushed seeds. Also, stinging nettle can help to purify the liver, and it has properties that remove toxins from the body. Take a tablespoon of the fresh juice of the stinging nettle herb three times a day before every meal. Another helpful beverage is fresh artichoke juice, which can be taken along with the stinging nettle. The artichoke can improve liver function and aid in the detoxification process. It's a good practice to detoxify your liver a couple of times a year for about two weeks at a time.
Liver Health
Once you've taken some of the toxins out of your liver, you can begin to strengthen it and improve its functions. Dandelion is a very important herb for the liver because it can improve bile flow and stimulate other liver functions. Black radish herb can be used for similar effects. Both herbs can be taken in 1 tablespoon doses, three times a day. Circulation is direly important for the liver, and so herbs that help the circulatory system, such as horsetail, St. John's wort, lemon balm, yarrow and chicory, may improve liver function. Take two tablespoons of each of those circulatory herbs, mix them together, and then use a single tablespoon of the mixture in a cup of boiling water to make a tea. It is worth mentioning that when you are recovering from a liver that was damaged, you may be deficient in several vitamins, including A, C, D and E, as well as the B-complex vitamins. Supplementing with vitamins and herbs can help to bring your liver to optimum function.
Liver Disorders
If you are suffering from a liver disease such as hepatitis, all of the previously noted herbs and vitamins can still be used, but you should add some other herbs to fight the disease. Andrographis is an herb that can help the flow of bile when you are experiencing hepatitis. Often it can be found in tablet form with echinacea and zinc. The anti-inflammatory properties of the herbs bupleurum and wormwood can improve various liver conditions. Lastly, dan shen has been used to heal hepatitis and other liver damage, such as that from liver fibrosis.