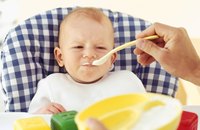 Starting solids is an exciting time for both you and your baby. The consistency of the food will gradually change from pureed or semiliquid food to strained or mashed and eventually small pieces of finger foods.
According to the American Academy of Pediatrics, you should start out feeding one solid meal a day while continuing to breast or bottle feed. By 6 to 7 months, you can transition to two meals, and at around 8 months, your child can have up to three meals with the addition of breast milk or formula.
Adding key nutrients to your child's meal and snacks will help your child achieve healthy eating behaviors as they grow.
Iron-Rich Snacks
All children are at risk of developing iron deficiency at around 9 to 24 months of age. Once your child is ready to start solid foods, you will want to introduce iron-rich foods for meals and snacks. Iron-fortified cereals, meats, poultry or fish, green vegetables and legumes are your best sources.
For babies, iron-fortified rice cereal or teething crackers, pureed meats, or green vegetables can be a snack between feedings. A serving size includes one teething cracker or 1 to 2 teaspoons of pureed foods. For toddlers, a serving size is one to two crackers, 1 to 2 tablespoons of vegetables or 1 ounce of protein.
If you plan on making your own baby food when your child is an infant, avoid preparing pureed spinach, beats, green beans, squash and carrots. These foods may contain large amounts of nitrates, which can cause anemia in infants.
High-Calorie Foods
Healthy infants grow at a rapid rate, generally doubling their weight by around 4 months. Babies and toddlers should get half of their calories from fat. Smashed avocado is a healthy and safe snack to give infants under 1 year.
Babies under the age of 1 should avoid all dairy products; after this, you can introduce full-fat dairy foods to your toddler. Snacks can include 1/2 cup of milk, chopped cubed cheese or 1/3 cup of yogurt.
Nutrient-Packed Foods
During snack time, choose a variety of brightly colored fresh fruits and vegetables to add vitamins, minerals and fiber to your child's diet. Finger-food snacks can include chopped grapes, sliced bananas or peas. For toddlers, a fruit or vegetable smoothie can make a great nutrient-packed snack. Blend 1/4 cup of milk or yogurt and a handful of berries for a satisfying shake loaded with calcium, vitamin D and vitamin C.
Choking Hazards
Foods that are considered choking hazards for children under 4 years of age are peanuts, seeds, popcorn, chips, rounded slices of hotdogs or sausage, tough meats, chunks of peanut butter, and hard and chewy candies. Raw fruits and vegetables can also be choking hazards if not chopped. These include whole grapes, cherry tomatoes, and baby carrots.
To prevent checking hazards, have your child sit down while eating and chop foods to no larger than 1/2 inch.