Treatment for canine urinary tract infections depends on what's causing the problem. In addition to infection, your dog might suffer from stones in the bladder, which can result in obstruction. Most simple urinary tract infections resolve with antibiotic treatment, although stubborn cases might require switching medications and a longer regimen. In addition to antibiotic therapy, your vet might prescribe pain medication, in the form of nonsteroidal anti-inflammatories.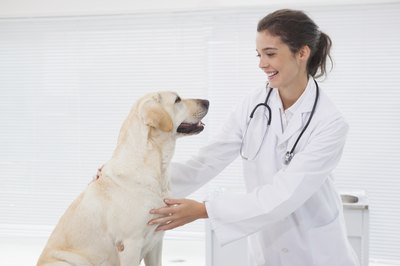 Urinary Tract Infection
Any dog can develop a urinary tract infection, but older dogs are more vulnerable than young canines. Females are more prone to these infections than male dogs. Symptoms include frequent urination, straining when urinating, blood in the urine, very smelly urine and urinating in inappropriate places -- generally indoors, where you'll notice it. Urination may appear painful for your dog. While you should take your dog to the vet as soon as possible after symptoms appear, if your dog can't urinate at all, that's an emergency.
Antibiotics for Urinary Tract Infections
Since most canine urinary tract infections involve bacterial infection, your vet likely will prescribe antibiotics for your pet. Usually, the infection involves more than one type of bacteria, with urine cultures revealing the culprits. Common medications used to treat canine urinary tract infections include amoxicillin, cefadroxil, doxycycline and enrofloxacin. While these drugs are given daily in pill form, your vet can choose to inject your dog with cefovecin, a long-lasting antibiotic that alleviates the need for daily medication. When administering antibiotics, give your dog the medication as instructed by the veterinarian -- with or without food -- for the recommended time. Depending on the drug and the bacteria, your dog receives antibiotics for one week to 21 days.
Dietary Therapy
Your vet might prescribe a special diet for your dog designed to maintain urinary tract health and prevent recurrence of a urinary tract infection. If your dog has struvite crystals or stones in his bladder, a prescription diet might dissolve them. These diets are available in canned and dry forms. Since they're high in sodium -- to encourage dogs to drink more and flush out the bladder -- they're not appropriate for animals with kidney disease.
Bladder Stone Removal
Urinary tract infections can result from stones in the bladder. Your vet will see these stones on an X-ray. If the stone is obstructing the urethra, your dog requires immediate surgery. It's possible to remove small stones via a catheter, or through a cystoscope. The latter is an endoscope for the urinary tract system. The vet analyzes the composition of any stone removed. If the stone is struvite, your vet can prescribe a diet to dissolve current stones and prevent future stone formation.