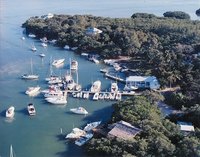 Pine Island, Florida is a small barrier island off the coast of Fort Myers. Lush, tropical greenery helps to seclude the area, making it a vacationer's paradise. In addition to the landscape, travelers will enjoy delving into the island's rich history, participating in activities like kayaking, boating and fishing, as well as lounging on its beautiful sand beach.
History
History buffs could spend weeks on Pine Island, researching and observing artifacts pertaining to the Calusa Indian tribe. Dominating the region in the 1500s, the Calusas were wiped out when the Spanish explorers came to the area, bringing with them both violence and smallpox. Any surviving Calusas fled to Cuba.
The Randell Research Center on Pine Island is an world-renown site dedicated to exploration of the lost Calusas and their ways. Guests may tour the site and learn about this tribe and their rich culture. A book store and gift shop are also on the premises.
The Museum of the Islands is run by the historical society on Pine Island, and features numerous Calusa Indian artifacts as well as the most famous mural ever created depicting the Calusa tribe. It was painted by artist and explorer Frank Cushing in the late 1800s.
Water Sports
Hire a fishing guide while visiting Pine Island and depart for the fishing expedition of a lifetime. If tranquil fishing is more your speed, cast your lure from the Matlacha (pronounced Mat-la-shay) drawbridge on the island. The gulf waters are teeming with fish, and famous for an abundance of grouper (a flaky, tasty white fish) as well as tarpon, which many local streets, parks and businesses are named for.
Rent or hire a boat and discover Cayo Costa Island Park, which is accessible only by boat. Water taxis are available to Cayo Costa as well, where you'll spend the day swimming, fishing or lounging in the sun.
Hire a water taxi and take a day trip to nearby Cabbage Cay. You'll feel like Gilligan and the Skipper when they landed on Gilligan's Island!
Culture
From November through April, Pine Island hosts a wide array of events known as "Creative Coast Weekends." From music festivals to art exhibits, there are fascinating opportunities to revel in both the island's culture and its artistic flair.
While taking in one or more of these spectacular weekend events, be sure to peruse the shops and restaurants--and even the old fashioned general store. Stay at a quaint old-fashioned Florida style inn for a real taste of the island.