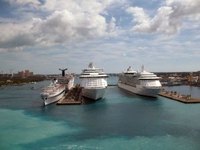 A cruise is an exciting getaway for men and women alike. But with all of the different activities available on a cruise ship, women want to be sure that they have all of the right clothes for the entire cruise. Since you're on a boat in the middle of the ocean, make sure that you pack and bring everything with you that you need.
Casual Wear
You will have opportunities to dock at certain port cities, where you can go exploring, shop at local markets and eat out at exotic locales. Because of this, you'll want to make sure that you pack some comfortable casual wear that will lend itself well to lots of walking and exploring. Depending on your destinations, you may want to stay away from clothes that look touristy, such as shirts with large American flags. Wearing these, you may find you don't get good prices while bartering for goods or food as the locals identify you immediately as a tourist. Shorts and a t-shirt or a light sundress are all good choices.
Formal Wear
Formal wear is often required as many cruise lines have formal dinners at night that have dress codes. While your cruise line will send you a general outline of what is appropriate for formal wear, pack some that travels well. The last thing you want to be doing is ironing a crushed satin dress while you could be out having fun. Choose something with two percent spandex so that it doesn't wrinkle in your suitcase. Look for one simple dress that can be modified with accessories like a scarf, brooch or belt so that you don't over pack.
Swimwear
You'll find that you spend most of your time on the cruise ship in a bathing suit. Because swimwear is typically small and easy to pack, bring at least three suits that you can wear while on board. This way, you always have a suit that is dry. Most people find that they gain a little weight while sampling the plenitude of food on the ship, so bring a cover up to wear over your swimsuit after eating. That way, you can walk around deck with confidence, but still shed the cover up when you're ready to take a dip or work on your tan.
Destination-Specific Items
Take some time think about the port cities that you'll visit and the climate that you'll be in for the majority of your cruise. If you're heading somewhere warm, remember to bring your sunglasses, sunscreen and a hat to keep the sun off of your face. If your cruise is somewhere cooler, like Alaska, you'll want to bring a warmer jacket and gloves. You'll also want items that you'll need in your port cities, like comfortable walking or hiking shoes, a camera and binoculars.