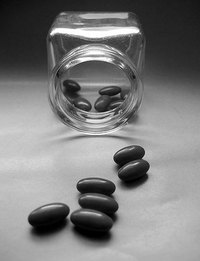 Like many other prescription medications, blood-pressure medication may be more or less effective depending upon the time of day and a person's level of activity. It's important to note such factors as whether a person has eaten or whether he will have access to a large glass of water when taking such medications. Other activities, such as an airplane flight or exercise may need to be considered before determining the appropriate time to take medication.
At Bedtime
According to an Italian study, most healthy people experience a 10 percent to 20 percent drop in blood pressure at night. In the study, many who suffered from high blood pressure didn't experience this normal dip. That led researchers to theorize that hypertension sufferers could benefit from taking their medication at night. The researchers experimented with this theory by telling a group of 32 hypertension sufferers who did not experience that nightly dip on their own to take their blood pressure medication at night. These patients, on average, experienced a seven-point drop in blood pressure after two months with no adverse side effects during the day.
With or Without Food
People have different reactions to different medications. These reactions can be alleviated or heightened by the presence of other medications or even food or water. When beginning a new blood-pressure regimen, it's best to take the medication with a light snack, such as crackers and cheese, to prevent the upset stomach that can occur when taking new medication without food. A large glass of water is also recommended. Therefore, it may be in the best interest of a hypertension sufferer to take the blood-pressure medication when she's ready for a snack. This could be mid-morning, mid-afternoon or at night between dinner and bedtime. Try not to plan this medication too close to a meal, as the snack combined with the large glass of water, can leave a person full.
At a Convenient Time
One of the most important rules when it comes to regulating blood pressure is to take the medication at the same time each day. This consistency makes the medication the most effective with the least amount of side effects. Therefore, unless a doctor has given a hypertension sufferer specific time guidelines , it is best to determine what time of day is best and most convenient. For example, for someone with a busy schedule in the morning but a light schedule at 3 p.m., the afternoon may be the ideal time to take the medication. Steady reminders such as a phone alarm or an email pop-up can help enforce a strict regimen, especially at first.