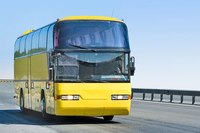 Many travelers forgo transportation by plane, train and car and opt for travel by bus. Buses have been used for mass transit for longer than planes, and with airport insecurities and lack of wanting to put wear and tear or damage on personal vehicles, travel by bus is becoming increasingly popular. Still, travelers desire a place to buy bus tickets cheap and that is completely ascertainable.
JohnnyJet.com
JohnnyJet.com is a one-stop shop for tourists looking for the best deal on bus tickets. This comprehensive website provides tourists with direct links to the websites of the main bus lines, like Greyhound and CoachUSA and JohnnyJet.com also posts the most recent travel deals and specials. JohnnyJet.com also contains links and information about the major bus companies in Europe. By allowing customers the opportunity to view all the bus companies and compare prices, JohnnyJet.com is one of the best places to find cheap bus tickets.
MegaBus
Mega Bus describes itself is a "low cost daily express bus service in the US and Canada." All buses have free Wi-Fi and all passengers are allowed to bring one standard size stow away suitcase. The average cost for a Mega Bus ticket, for example, from Boston to New York City is $11 (before fees and taxes). Check the website (link included below) for deals and savings opportunities.

NeoTravel.com
NeoTravel.com looks through the database of discount bus tickets available on the Web and through major bus companies and provides coupons and promotional codes for certain bus companies, including Greyhound. The website offers a plethora of deals on regional bus tours also; containing links to all the major companies, bus tickets search engines, coupons and by finding the best deals of the day, NeoTravel is an important resource in finding cheap bus tickets.