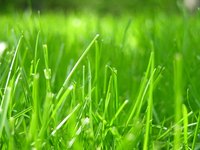 Whether your fertilizer spreader hopper was miscalibrated or your gardener fertilized and then so did you, temporarily adjusting the watering schedule and the fertilizer regimen can usually compensate for the mistake and prevent extensive damage to the lawn blades or roots. Also, mowing a week or two after the application can give the roots an impetus to grow new blades, thereby using up some of the overapplied nutrients.
Water Application
Increasing water application is the first line of defense when coping with overapplication of fertilizer. Lawn fertilizers have high salt contents that are drying to the grass blades and roots, so washing the salts off of the grass and through the soil over time is the only real remedy. Water the expanse of lawn every other day so that is it wet, but not sopping wet with standing water. Keep this up for a week or so, then begin tapering down to a maintenance twice-a-week watering.
Holding Off on Fertilizing Regimen
After significantly overfertilizing your lawn grass, hold off on the next regularly scheduled application of fertilizer, or skip the next feeding application altogether and pick up with the next regularly scheduled application. This will allow the fertilizer salts to dissipate and the stress on the grass roots and blades to be minimized over a period of time, allowing recovery.
Mowing
Plan to mow your lawn about 6 to 10 days after the overapplication of fertilizer. The combination of the large amount of fertilizer and the abundant watering to wash out the fertilizer salts will likely spur growth. Waiting up to 6 days ensures that any residual fertilizer will not be burned into the grass by the sun, which can damage the thatch and roots, and that there will not be any added stress on the overfertilized plants. Mowing after 6 days when a good portion of the fertilizer had been washed more deeply into the soil helps spur top growth, which uses up some of the excess fertilizer nutrients while not increasing the stress on the plant as much.