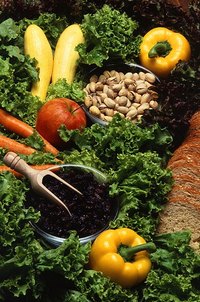 Eating all-natural foods may be tougher than you think. Many products have chemical additives or unnatural preservatives, even some of the fruits and vegetables we buy. To eat an all-natural diet, you must read labels, do research and be honest about what is in the food you eat. See a doctor before trying a drastically new diet.
Breakfast
Feel full, wake yourself up and to stay positive about your diet when it's time for breakfast. The best breakfast food to eat is fresh organic fruit. It's all natural, it won't spike your blood sugar like a sugary breakfast would, and it gives you a great deal of nutrients and energy. Spend the previous evening chopping up organic apples, peaches, pears, strawberries and blueberries and feel free to make yourself a big portion. For some variety, there are some affordable natural or organic cereals on the market available at organic food stores. A serving of cereal with a handful of raw almonds and a scoop of organic, nonfat yogurt can make you feel full and energetic. If you're a meat and egg lover in the morning, you can get all-natural farm-grown meat and eggs, but it's recommended that you eat small portions. Too much meat can make you tired as your body expends more energy trying to break down protein.
Lunch
Try an all-natural sandwich and salad for lunch. There are many all-natural breads available that replace sweeteners like high-fructose corn syrup with natural cane or brown sugar. You can also find farm-grown turkey and organic cheese, or organic peanut butter and jelly to put between the bread slices. The salad can be a lot of fun, as nearly all vegetables are organic. Start with a base of organic lettuce and add a great deal of carrots, tomatoes, beets, onions and broccoli, or any other vegetables you like. Substitute a light coating of apple cider vinegar or lemon juice for your old sugar-heavy salad dressing. If you still feel the need for tastier dressing, there are multiple organic dressings that can satisfy your craving. If a sandwich isn't your thing, feel free to have a fresh plate of salmon or an organic pasta salad instead.
Snacks
Choose from among a number of tasty snacks. Snacks in an all-natural diet are important; they keep you going toward the next meal and keep you from sneaking non-natural foods in. Raw nuts are rich in omega-3 fatty acids, fiber and protein. Try a handful of raw walnuts, pecans or almonds with some unprocessed, raw honey. Health food stores have several all-natural snack bars, including organic granola bars that can also help to satisfy your cravings. If you don't finish your earlier meals, feel free to save the last little portion so that you can use it as a snack later. This diet will make you very hungry, so it's important to keep yourself well stocked and fed.
Dinner
Enjoy a plate of steak, potatoes and vegetables for dinner if you choose--as long as you ensure the steak is organic and grass-fed, if you season the potatoes with fresh herbs instead of butter, and if you only lightly steam the vegetables. Organic and grass-fed meat leaves out chemical antibiotics that are in "normal" meat. Fresh herbs can make your potatoes taste fantastic, and they can also contain vitamins and minerals not found in dried spices. Lightly steaming the vegetables can keep them high in nutrients that would be lost in extremely cooked vegetables. Experiment with different organic and all-natural items to create a menu that will make you enjoy and continue this plan for as long as you want.