Coughing is a common childhood symptom and condition that is usually the result of a cold, virus or allergies. Coughing is usually not a sign of a serious condition unless it is accompanied by a high fever. Kids often experience dry coughing, which can be treated with a variety of remedies to ease symptoms and provide comfort.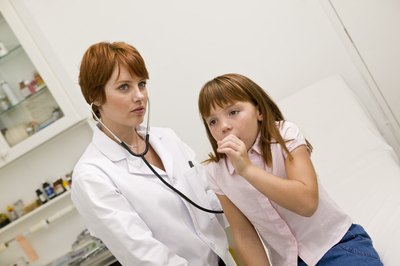 Home Remedies
Dry coughing in kids can be treated at home with remedies such as putting a vaporizer in the child's room to increase moisture within the air and provide moisturized air for breathing. You can add essential oils such as eucalyptus, rosemary or peppermint to create a vapor steam that will provide further relief to a dry cough.
Creating a steam room in your bathroom may also soothe dry coughing.
Turn the hot water on in your shower and shut the door to allow steam to build up in the room.
Sit with your child in the steam for a minimum of 20 minutes for best results. Read a book to your child to keep them entertained while passing the time.
Cool drinks such as cold water or juice may also be soothing and beneficial for treating a dry cough in kids. Avoid citrus juices such as orange juice, or sodas--which may irritate a sore throat caused from a dry cough.
Professional Treatment
Your pediatrician may recommend a cough suppressant for reducing dry cough symptoms, but using cough syrup in children under age 4 is not usually recommended.
Your pediatrician may recommend nebulizer breathing treatments when a child's coughing is caused by asthma.
Dry coughing in kids as a result of allergies may be treated by eliminating the allergen source and prescribing antihistamines to treat allergy symptoms.
Cough drops may be used to treat dry coughing symptoms in older children, but those younger than 3 could choke, and should not be given cough drops. If you feel that your child's dry cough symptoms would benefit from cough drops, check with your pediatrician to see if she thinks they are safe for your child.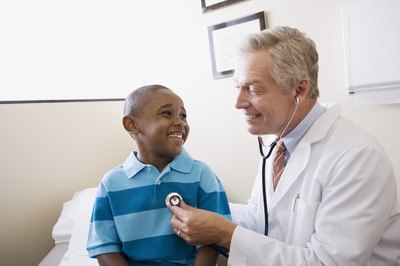 Considerations
Most colds are caused by a virus. Antibiotic treatment will not be effective in treating a dry cough caused by a cold or virus. You can treat dry cough symptoms for the duration of the virus, usually around two weeks.
Contact your pediatrician if your child has a dry cough accompanied by a fever of 102 degrees or higher. Coughing with high fever may signify a more serious infection such as pneumonia, and requires immediate medical attention.