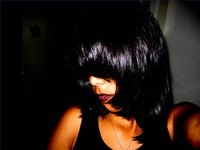 Looking for a hairstyle that's not too long and not too short? There are many medium hairstyles for fine hair to choose from. Medium-length hairstyles, when cut correctly, can make fine hair look fuller than short cuts while ensuring your thinner hair doesn't become flat due to excess length.
Straight Hair
Straight, fine hair can be difficult to style and keep styled. Often this type of hair is difficult to mold into any other shape than stick straight. For those with this hair type try angular or asymmetrical bobs which play up your hair's ability to create bold lines. For longer styles have your stylist razor cut many layers into the last few inches of your style, creating a natural flip at the shoulders.
If your straight hair does take well to curl have long layers cut into your hairstyle. Add wave to your hair by misting damp hair with a spray gel and setting with medium sized Velcro rollers for a big, sexy hair. In a hurry? Create the same effect with hot rollers but just be wary of how often you use them as fine hair can damage easily with excess heat.
Curly Hair
Whether your fine hair has just a hint of wave or full blown curls every medium hairstyle for this fine hair type should begin a proper cut. Always seek out stylists who are experienced in styling curly hair and can advise you on a suitable style that will work with your curls, not against them.
Medium hairstyles for fine hair with natural curl should sport slightly shorter layers. This will allow your natural curls to form easier and give your hairstyle more volume. Always use an anti-frizz styling product along with a curl enhancer. When blow drying your hair use a diffuser and scrunch curls into place gently. Touch up curls with a curling iron where necessary and finish off with a light pomade to define your curls.
Styling Options
One of the biggest benefits of medium length hair is your ability to wear it up or down with relative ease. To glam up your hairstyle for an evening out try a simple at-home updo instead of your everyday hairstyle. All you need is a set of hot rollers and a few bobby pins. Set your hair in the rollers to give your hair a soft, natural wave. When the rollers have cooled remove them and finger comb your hair gently. Sweep sections of your hair back, pinning them into place at the back of your head. Keep repeating this with small sections until you've created a very soft, unstructured bun. Your fine hair is instantly glamorous.