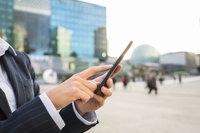 As anyone who's ever spent two hours on Facebook knows, information technology can distract you from the tasks that really need to be accomplished. But IT, which involves the use of computers and telecommunication to store and exchange information -- can increase productivity if it's used intelligently. And such use can help your business achieve your goals more quickly.
Virtual Work Options
Teleworking strategies can greatly increase productivity. These strategies include allowing employees to attend meetings by computer or to work from home using software that tracks their workload. A 2013 meta-analysis of teleworking studies by Pennsylvania State University found that telecommuting improved productivity, job satisfaction and life satisfaction while reducing turnover and work-family conflict.
Analyze and Monitor Progress
Contemporary information technologies allow bosses to precisely track progress long before a project is due, and they can decrease the amount of time an employer spends monitoring and tracking progress. Software can be used, for example, to tally how many sales calls an employee makes, track how much time he spends writing a brief or automatically log phone calls. This makes it easier for employers to see who is working hard and who is getting good results; this is especially helpful when employees work off site.
Eliminating Job Duties
The more job duties an employee has, the more challenging these duties can be to complete. Information technology can eliminate tedious work and repetitive projects, freeing employees to embark on other projects. For example, the ability to scan and email documents eliminates the need to retype them, and automatic logging of online chats and auto-recording of web-based phone calls make it easier to recall what was said and provide accurate information.
Opportunities for Collaboration
Information technology makes it much easier to collaborate on projects, particularly across geographic and time barriers. Virtual meeting software, email and texting all allow rapid access to clients and co-workers. Video conferencing makes it easy for people in distant locales to attend presentations, and collaboration boards and software programs ensure that multiple members of a team can share information -- even without ever talking in person.